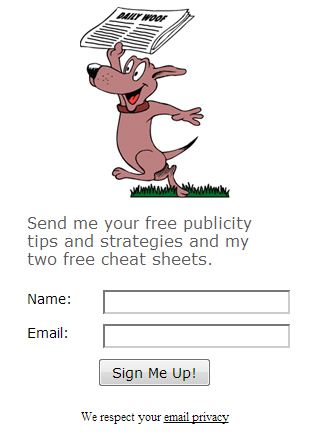 I've been using opt-in boxes at my website and blog for years to collect email addresses for my twice-a-week ezine, The Publicity Hound's Tips of the Week.
But I never considered using them on LinkedIn until Wayne Breitbarth suggested it. He explained how to do it when he was a guest on the webinar I hosted a few weeks ago on How to Use LinkedIn Company Pages and Ads to Attract an Audience, Promote Your Heart Out and Help Them Buy. 
Thanks to Wayne, I now have the same opt-in box in two locations: one near the top of my profile page and the other on The Publicity Hound's Company Page. And in little more than a week, I already have four people who have opted in, and I've hardly promoted it.
That isn't much. But over a year, as the page builds traction, that could grow to several hundred names. 
You'll need an email management program to do this. I use Aweber (affiliate link) and love it because it's simple. It lets me segment my lists by topic, and it gives me the ability to send follow-up autoresponders. Also, their customer support is superior! And Aweber sends me periodic email tips on how to improve my email marketing.
Here's how to add two opt-in boxes on LinkedIn.
First, Decide on Your Freebie
What will entice someone to give you their email address?
Most likely, it will be something they can access or download that includes information on how they can solve a perplexing problem. People in my audience often struggle with press releases and don't know when to write one. In exchange for their email address, I offer free cheat sheets on "89 Reasons to Write a Press Release" along with my "Top 10 Tips for Free Publicity." Also consider offering special reports, videos, ebooks or checklists.
I recommend double opt-in. That is, require people who subscribe to click on a confirmation link that your email management company sends to them after they subscribe. This will keep you out of trouble if someone accuses you of spamming.
After they click on the confirmation link in their email, I send them to a thank-you page at my website where they can access their cheat sheets.
Add Your Box to Your LinkedIn Profile
Before I heard Wayne's idea for using LinkedIn to collect email addresses, visitors would arrive on my LinkedIn profile page and see my headline, then "Activity," and then "Background," with "Experience" at the top, like this: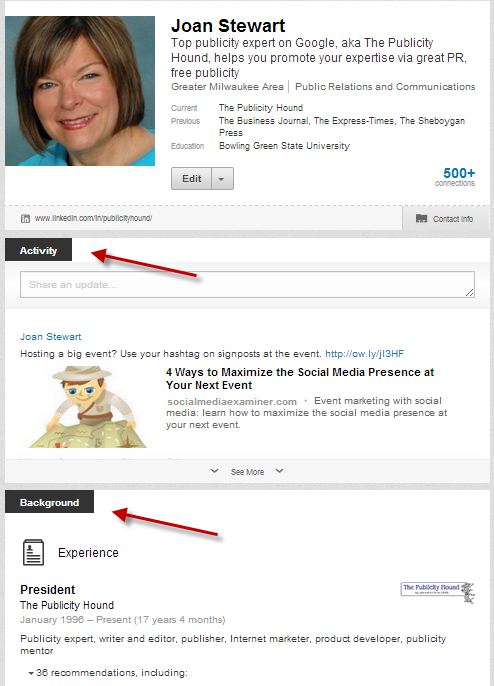 I never used the "Project" section on my Profile page. Now, I do. And I display it prominently, as the first category, right under "Background." My ezine is, in fact, a project. And placing it high on the page tells visitors I have a newsletter and that they can subscribe.
To add "Projects" to your profile page, log into your account. Go to the top and click on "Edit Profile," and look for "Projects" in the upper right corner under "Recommended for You." If you have no projects yet, you'll see "Projects" on the list. Mine isn't here because I've already added it: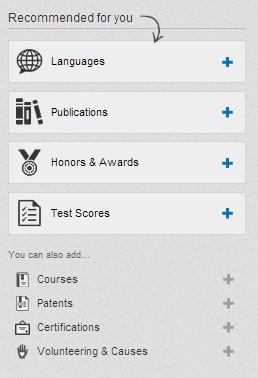 Click on the + sign and "Profiles" will appear in the Background section. Use the up and down arrows to move "Projects" up or down. Mine is right at the top.
Notice the words "Click here to subscribe" in the headline: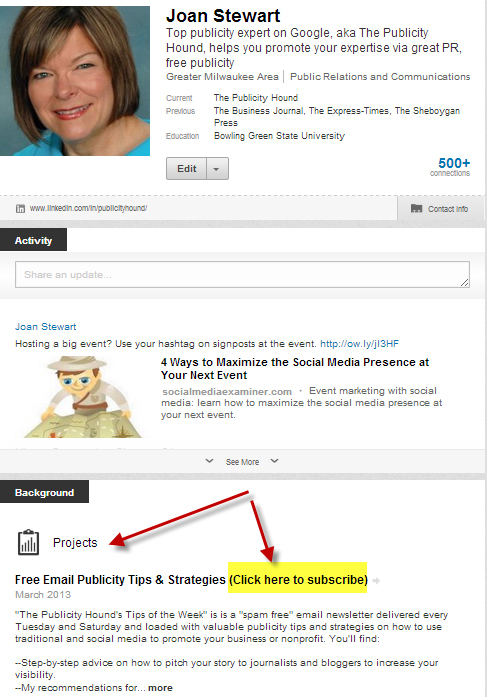 When visitors click to subscribe, it takes them to the same sign-up box you see in the upper left section of this blog post, at the top. I hyperlinked the words "Click here to subscribe" (highlighted in yellow above) to the URL that AWeber assigned to me when I created the opt-in box, or form. If you haven't subscribed to my ezine and want to, go ahead: click on the box in the upper left and you can subscribe. 
Add Your Opt-in Box to Your Company Page
Now, it's time to add the same opt-in box to your Company Page. You can find instructions on how to create a LinkedIn Company Page here.
The ezine is, indeed, a product even though it's free. So I added it to the "Products" section. I included the link for the opt-in box so it appears in the "Get more info:" section on the right.  Notice that in the "Product Overview," I gave people specific instructions on how to subscribe, and what will happen after they do.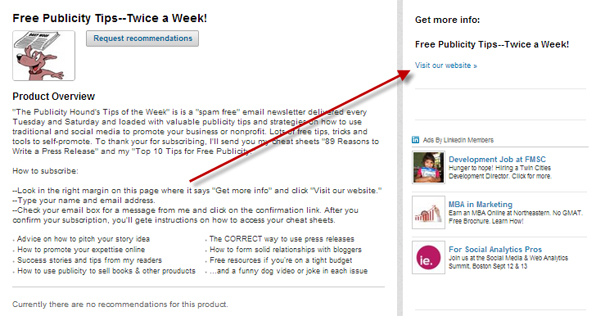 Let Your Followers Know
After you've posted the opt-in box to your LinkedIn Company page, let your followers know by sending a status update and linking to the product. I found this part confusing. When I asked my virtual assistant, Christine Buffaloe of Serenity Virtual Assistant Services, she wrote a blog post for others who are confused. 😉   It's How to Edit Image Title and Description on Your LinkedIn Company Page.
Are there any other places on LinkedIn where you use opt-in boxes? Do you let people within your Groups know how to follow you? Share in the Comments section, along with questions you have if you find this confusing (I did).
And, by the way, if you're one of my ezine subscribers and you love my tips, I'd be grateful for a recommendation on LinkedIn.