If you or your PR client have a great story to tell that can motivate entrepreneurs and upper management, you might be a good candidate for Motivated magazine.
Editor Shevaun Voisin said she welcomes pitches. But before pitching, please check out the magazine's website to get a good feel for its mission.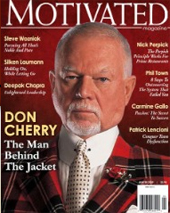 "MOTIVATED Magazine encourages readers to rise to their fullest potential. Pairing passion with purpose, the magazine features insightful articles submitted directly from today's world leaders, entrepreneurs and everyday people with extraordinary stories to share.
"Each issue focuses on a theme in an effort to inspire and motivate readers on their journey toward business and personal success.  Topics range from the importance of leading, communicating, and investing, to strategizing, producing, and growing, all in an effort to achieve balance and overall happiness."
"Be sure to read my editorials so you understand the reason why I publish my magazine…it is very important to me that contributors understand my intention behind the magazine so that they are on board with my mission to empower and educate others by pairing passion with purpose."
The target market includes entrepreneurs and upper management executives who have an interest in growing personally and professionally.  The magazine is shelved in the business section of Chapters, Indigo, and Barnes & Noble bookstores. 
It's distributed through Gateway and Hudson news, in airports and Loblaws grocery stores, and through subscriptions. 
Email her at Shevaun at DeclanMcAndrewPublishing.com.