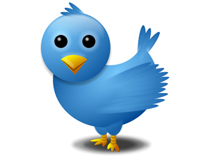 Here are my Top 10 tweets from this past week, great for retweeting! If you missed these, follow The Publicity Hound on Twitter.
Using hashtags: 7 ways to avoid looking like a dweeb
It's one of the most powerful tools in search. It's the hashtag, #, above the numeral 3 on your keyboard, an easy way to help people find your valuable content.
How to make a blog banner—free, fast and easy—without an expensive designer.
Want a free and easy way to make your Blogger blog look more original and professional?  Follow this very easy tutorial for using a free program we can all use. Picasa.
How tips lists can get you major stories in top-tier media
It's one of the most basic tools in your publicity toolbox, and Publicity Hounds have been using it for decades to get mountains of publicity in national print and broadcast media.
USA Today now most widely circulated newspaper in the U.S.
USA Today is now the country's most widely circulated daily newspaper, according to the latest report from the Alliance for Audited Media. Weekday circulation jumped from 1.71 million a year ago to 2.88 million for six months ending September 30. The jump reflects the Alliance for Audited Media's recent decision to include data about mobile and tablet apps.
Blue Line: The new social network for law enforcement
There's a new social networking platform on the scene, and it's aimed specifically at law enforcement officials. Bill Bratton, former New York City and Boston police commissioner and Los Angeles police chief, gave Fast Company a tour of BlueLine.
Need publicity? Subscribe to HARO and get media leads daily. It's free
From The New York Times, to ABC News, to HuffingtonPost.com and everyone in between, nearly 30,000 members of the media have quoted HARO sources in their stories. Everyone's an expert at something. Sharing your expertise may land you that big media opportunity you've been looking for.
Is your kid in college? Give 'em 5 great reasons to start a blog
Starting a blog is super idea for anybody but it's a particularly good plan for college students looking to further their employment prospects.
7 places to stay off the sauce if reporters are present
Here are seven situations when you must stay away from reporters if you're drinking, or stay away from alcohol if you're talking to anyone in the media.
Using Google+ to appear in the top search results—every time
Many marketers are wondering about the effects of Google+ on search results, and for anyone with a Google+ profile, a few personalized searches make those effects quite apparent. Marshall Lee the vampire king (don't be afraid, it's just Rand) explains how having the right circlers on Google+ can lead to top-ranked results for even the broadest of queries in their SERPs.
How nonprofits should handle REALLY bad publicity
All institutions are vulnerable to many kinds of management issues, but the degree of transparency they reveal in investigating and being open about any problems they may have is really critical. Trust begins to be rebuilt more quickly in that way.