Here are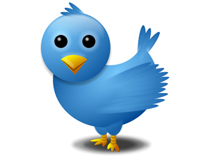 my Top 10 tweets from this past week, great for retweeting! If you missed these, follow The Publicity Hound on Twitter.
7 reasons your new blog visitors bounce, and how to stop them.
If yours is hovering in the 60 percent range or higher, here are 7 reasons your new visitors might be bouncing, and how you can make them stop.
How tips lists can get you national publicity in top-tier media, including the Wall Street Journal
It's one of the most basic tools in your publicity toolbox, and Publicity Hounds have been using it for decades to get mountains of publicity in national print and broadcast media.It's called the tips list, or tip sheet. The headlines look similar to these
7 PR pitches that will get my attention every time.
I've written pitches and press releases of my own, but more often I'm on the receiving end. There's a lot of speculation as to what the PR community does wrong, but I'd rather share with you the things they do right—the 7 PR Pitches That Will Get My Attention Every Time.
Why recommendations are still important on LinkedIn.
This is not the standard discussion of LinkedIn recommendations–how important they are and how you should strive to get a couple for each job entry on your profile.
5 ways to use curated lists of blogs in your niche.
Figure out how you can use that information to make more contacts, become smarter, and get more publicity.
Facebook turns on secure browsing by default
Facebook turned on a key security feature by default on Wednesday that scrambles data sent by users to the company's servers, following similar moves in recent years by Web services such as Google and Twitter.
Slow death continues for printed newspapers. Cleveland Plain Dealer moves to digital-only 3 days a week.
A week from Monday will mark the beginning of a new era at The Plain Dealer. For the first time, the newspaper will not be delivered to our homes on Monday, Aug. 5.
9 publicity stunts that went terribly wrong.
When bizarre tweets started emanating from Chipotle's Twitter handle Tuesday — like, "twitter Find avocado store in Arv" — the public thought that it had been hacked. This theory gained traction after Chipotle later tweeted "Sorry all. We had a little problem with our account. But everything is back on track now! – Joe."
The best replacement for Google Reader.
Where to turn in a post-Google Reader world? HootSuite may hold the answer.