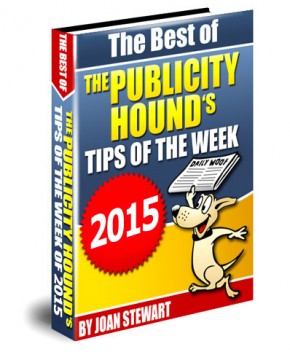 Here's a gift that's perfect for small business owners, a nonprofit that needs publicity, authors who want to sell more books, or anyone who wants to self-promote on a shoestring budget and without an expensive publicist.
It's "The Best of The Publicity Hound's Tips of the Week of 2015," an ebook that includes 24 tips from my popular email newsletter. I've been offering this ebook as a holiday gift since 2005. My subscribers love it because all the tips, tricks and tools are free, and the ebook is a helpful reminder of promotion they might have put off earlier this year.
When sharing it, use this link which will lead people right over to this blog post: https://publicityhound.com/blog/best-of-2015 (you can't download the book from this link, which leads right back to this blog post). Click the link above that's highlighted in yellow.) You'll also find a handy list of tweets at the end of this post.
Here's what you'll find in my free ebook:
Book Publishing, Marketing and Publicity
Where to find a list of 300+ indie book reviewers.
Ideas for taking book marketing "baby steps" instead of trying to do everything at once. 
An easy addition to your marketing that will help you find the ideal readers for your books.  
How to create your own clever "book hook" that will get you booked on radio shows.
The Number 1 marketing strategy to learn next year to sell more books (most authors aren't doing this).
Where to find thousands of readers in your book's target market, even for fiction.
 Problems accessing the book? Email my assistant, Christine Buffaloe, at Chris@SerenityVA.com
Content Creation
Where to find step-by-step directions on how to write for 11 Mega-sites like Huffington Post, Inc. and Fast Company.
How to get your hands on 23 free guides, templates, worksheets and infographics that will make creating content a lot easier.
A free tool that will let you create a personality quiz. Use it as a lead magnet in exchange for an email address.Radio Publicity
A free tool that will help you get booked on radio shows.
Facebook, Pinterest, LinkedIn
What to do on Fridays that will endear your social media friends, followers and fans to you.
Why obscure holidays go viral on social media, and how to create your own holiday or day, week or month of the year. 
Where the gold is buried on Pinterest and how find the treasure chest. 
Free Tools
Fun tool where you can access images of old comic book covers in the public domain, for use at your blog or in your marketing materials.
Powerful free tool that will help you write A+ headlines.
Where to find cheat sheets, checklists and best practices for promoting your event.
A super-fun free image tool that will let you create a photo that makes it look like you're on a big TV news segment. 
Pitching an Idea
How to score points when pitching book or product reviewers and set yourself apart from everyone else pitching.
How to tie into today's day's hot news, also known as newsjacking, when you want publicity. 
The very best FREE online media database. 
A series of checklists that will help you pitch journalists, bloggers and influencers.
A top publicist's excellent reason why you should pitch small radio stations and magazines on niche topics.
Problems accessing the book? Email my assistant, Christine Buffaloe, at Chris@SerenityVA.com
Blogging
The first thing you must do before you pitch a blogger.
How to find the top blogs in your niche so you can pitch an idea or offer a guest post.
Problems accessing the book? Email my assistant, Christine Buffaloe, at Chris@SerenityVA.com
Please Regift and Retweet