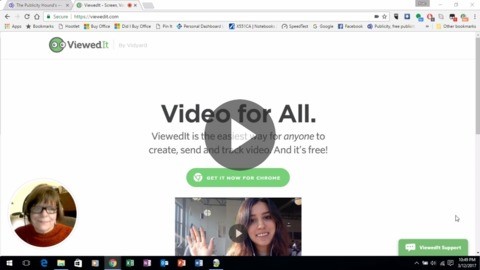 Screen-capture software gives you the ability to record what you see on your screen and turn it into a video: perfect if you do training. 
The problem is, fancy programs like Camtasia, which I've been using for more than a decade, have a long learning curve because they offer so many options like fade in and fade out transitions between frames and "call-out" messages that appear on top of your video. They're expensive too. The latest version of Camtasia sells for $199. 
If you're willing to sacrifice the techie bells and whistles so you can crank out rudimentary screen-capture videos fast, and for free, you'll love Viewedit. It's similar to Jing but without the five-minute limit.
12 Advantages of ViewedIt
It's available as a lightweight Chrome extension for anyone who has a Gmail address.
It can be used to communicate better, clearer and faster with video, even if you don't have a lot of techie skills.
After you've installed it, you can begin recording with just one click on the round green icon to the right of your browser window.
You have the option of incorporating a small video of yourself into the lower left corner of your video so that viewers can see and hear you as you record what's on your screen. That small round video remains on the screen as you take your viewers from website to website.
Your video is ready to share right away on social media or email. No long waits for rendering.
It resides on ViewedIt's server which avoids hassles on your end.
You'll get a link that you can share in an email, at your website or on social sites.
The recording limit is one hour per video.
You can record as many videos as you like.  
You can keep tabs on all your videos in the ViewedIt feeds.
You can get free instant access to ViewedIt's library of support videos.
You won't have to struggle with this. It took me only about 15 minutes to learn the platform.
4 Disadvantages of ViewedIt
You can't edit your video. For that reason, and because of people's short attention spans, I recommend you create a series of short videos, a few minutes each, instead of one long one. If you screw up a 45-minute video, you don't have to record the whole thing all over again. 
You can't download your video. As you can see by clicking on the video I recorded above, it opens in a new window because it resides on ViewedIt's server. What you see is a screenshot that I've linked to the video.
You can't publish it to YouTube. 
You don't have most of the options available on Camtasia.   
 I hope ViewedIt eventually adds the ability to download the video or publish it to YouTube directly from their site.
21 Ideas for Using ViewedIt in Your Business
Here are lots of ways to use this easy tool. Many of these ideas require using a series of photos or PowerPoint.
Web developers:
Take viewers on a tour of a few websites you've created. Link from your website.
Artists:
Take potential clients through your online gallery where you have paintings for sale.
Product Creators:
Create videos that demonstrate how to use your product.    
Book Cover Designers:
Show authors some of the best covers you've designed.
Restaurants:
Display photos of new menu items.
Website Owners Everywhere:
Take visitors on a tour of your website or online store.
Pinterest Users:
Show off some of your most interesting boards and invite people to follow you.
LinkedIn Group Managers or Members:
Point out some of the more helpful discussions in your groups and invite others to join.
Article Writers:
Take visitors to other websites that publish your articles and explain how to find them. 
Speakers:
Show your website visitors how to find your online calendar of upcoming programs. Where can meeting planners find your one-sheet?
Industry Experts:
Create a short video of emerging trends in your industry or "industry news of the week."
Media Kit Creators:
Take visitors on a short tour of your online media kit. If you're an author who doesn't have a media kit, read more about my Quick & Easy Media Kit Templates.   
 Facebook Users:
 Explain to followers and fans where to find your Facebook Live videos and other content you've shared.
 Internet marketers:
Explain how people can sign up for your affiliate program and where they'll find promotional materials that will help them sell your products and services.
Ezine Editors:
If you have an archives, show people where they can find it and how to use it. 
Authors:
Show people the various websites where they can buy your books. Not everyone wants to buy on Amazon.
Real Estate Agents:
Take clients on a tour of a home you listed, showing interior and exterior photos and pointing out features and benefits.
Editors:
Create "looking over my shoulder" videos that demonstrate how you edit copy in a Word document.
Book Reviewers:
Create a video book review on Amazon. You can write a short review at the site and then link to your video where people can hear you give a more in-depth review.
Event Planners:
Promote an upcoming event using a series of photos from last year's event. You can narrate to build excitement. 
Experts:
Show your fans photos of the covers of books on your bookshelf that have made you smarter. Give a one-sentence review of each.
Find several more ideas that are perfect for screen-capture videos in these 44 Ideas for YouTube Videos. What ideas do you have for using ViewedIt in your business? Have you discovered more advantages or disadvantages than I've listed? I'd love to know what you think.