Issue #952 Sept. 19, 2015
Publisher: Joan Stewart
"Tips, Tricks and Tools for Free Publicity"
In This Issue
Your Op-ed in the N.Y. Times
Publicity in Ezines
Teach an Online Course
Hound Video of the Week
This Weekend in the Hound House:

It's a weekend of reminiscing. I'm off to my high school reunion tonight, and then to a reunion tomorrow with 14 cousins from my mom's side of the family. Lots of "Do you remember…?" And lots of laughs. Guaranteed.
1. Your Op-Ed in the N.Y. Times
Landing an opinion piece in the New York Times is no small publicity feat. Here are six tips for doing just that:
Your column can be from 400 to 1,200 words. Submit it to opinion@NYTimes.com.
If you're reacting quickly to breaking world news, you score extra points. For other topics, you might have to wait several months for any piece to appear in print.
If they like your topic but it needs revisions, you might have to work with one of their editors.
Use conversational English, not jargon.
It must be original content and cannot have appeared previously in print or online.
Expect to sign a contract before your piece is published, outlining the Times' rights and your responsibilities.
Read more tips here. Thanks to PR expert Marsha Friedman for this one.
2. Publicity in Ezines
Target special-interest ezines in your publicity campaigns.
These electronic magazines and newsletters are easy to get into. And many have loyal readers because the topics are so niched. Here are my two favorite ezine directories. If you publish an ezine, add yourself to these lists:
New-List has more than 9,300 ezines for business, Internet business, finance & real estate, writing/publishing/speaking, arts & entertainment, reference and education, food & drink, health & fitness, self-help, and lots more.
BestEzines includes more than 3,766 ezines. Only the newest listings are on the homepage. To see them all, click on "Browse Ezines."
Thanks to book marketing expert John Kremer for this tip.
3. Teach an Online Course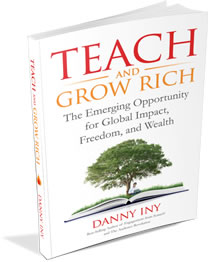 For 15 years, information products have been the most profitable thing to sell online. But no more.
That's because there's so much free information on the Internet.
The most profitable route for authors, speakers, experts and entrepreneurs is to teach an in-depth course online, like the Author Email Boot Camp pilot program I taught a few months ago.
I learned how to do it from Danny Iny and the folks at Firepole Marketing.
If you're toying with the idea of teaching something but you don't know if you're ready to roll out an in-depth course, grab Danny's ebook "Teach and Grow Rich." It's free for a limited time, until Monday, Sept. 21. You'll learn about dizzying opportunities and business-crushing pitfalls of teaching online.
4. Hound Video of the Week
So you think you can dance? Not like this white poodle.