Issue #1231 June 12, 2018
Publisher: Joan Stewart
"Tips, Tricks and Tools for Free Publicity"
In This Issue
The Suicide Epidemic
Big Change in Speaker Selection
Why Ghostwriters Are in Demand
Hound Video of the Week
This Week in the Hound House:

My neighbor and I are losing the battle with the groundhog. The mama has had babies. Two little ones are running around my backyard, and the entire family of who-know-how-many takes refuge under my garden shed. It's time for a live trap but I hate separating the babies from their mama. Suggestions?
1. The Suicide Epidemic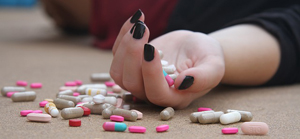 Do a Google search for "suicide" and you'll see top-tier media outlets and blogs covering the topic from a variety of angles, following the deaths of Kate Spade and Anthony Bourdain.
They're quoting experts who are offering their best advice on how to cope with what has become an epidemic. Authors, speakers, experts, schools, nonprofits and the medical community can share tips too. Some ideas:
–What's the best way to explain suicide to children without putting ideas in their heads? What age is appropriate to introduce the topic?
–What's a compassionate response to a family that has lost a loved one to suicide? What should you say or never say?
–If someone suffers from depression, bipolar disorder, schizophrenia, personality disorders or substance abuse, do they need to seek professional help if they have only a fleeting thought of suicide?
–Is the suicide epidemic one more reason why parents should be monitoring their children's social media accounts? What should they be looking for?
–If you suspect a friend or family member is contemplating suicide, who do you call? Or is it best to encourage them to seek professional help on their own?
To do: Don't view these suggestions as selfish ways to piggyback onto someone else's misery for your own publicity. Consider them a public service. Read The Washington Post's excellent article "Suicide: We need to be brave enough to ask."
#Suicide #SuicidePrevention
2. Big Change in Speaker Selection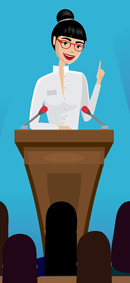 Speakers can no longer pitch their signature topic based on their platform and hope a meeting planner chooses them for the big gig.
Meeting planners want fresh ideas in specific areas. Content you've been presenting for five years isn't relevant anymore. And unless the topic is cutting edge and compelling, a jazzy title isn't enough, even if you've generated a mountain of publicity.
So says Vickie Sullivan, a top marketing strategist for thought leaders, professional speakers, and B2B professional service firms.
Vickie says the Association of Proposal Management Professionals turned the tables when they turned topic selection over to their members. They also approached speakers with a list of topics and asked, "What do you have to say about this issue?"
The good news, she says, is that this system levels the playing field, giving new speakers a fighting chance. Well-connected speakers can't use their relationships as well here.
To do: Read her blog post "Pay Attention to This Big change in Speaker Selection." Check out the two related articles for speakers that are linked at the end of the post.
#SpeakerTips #SpeakerMarketing
3. Why Ghostwriters Are in Demand
More than 250 million Americans and more than 5 billion people worldwide say they want to write a book.
You and I both know they won't.
Why? Because it's too much trouble. Or they don't know how to write and don't want to learn. Or they're too busy with their jobs and families.
Many of those people who want to write are Baby Boomers who would love a memoir, something to leave behind for their friends and family. Some of them can afford to pay a ghostwriter $35,000 or more to write it for them.
Here's the problem. There are fewer than 1,000 professional, experienced or training ghostwriters in the world.
Many certified ghostwriters have to turn work away because they can only juggle a few books a year. This means a golden opportunity for you if you love to write.
Two years ago, I offered a free webinar with ghostwriter Claudia Suzanne, who teaches the Ghostwriting Professional Designation Program, the first (and still only) soup-to-nuts ghostwriter-training course in the world. She will teach the course through California State University Long Beach starting June 20.
We're offering free training again from 4 to 5:30 p.m. Eastern Time on Thursday, June 14. Even if you're not sure ghostwriting is for you, and you're happy as an author, join us for the call. You will learn the 13 things you must have to be successful, 9 reasons ghostwriters are in demand, 5 things you need to ghostwrite nonfiction & memoirs, the 6 biggest challenges for fiction, success stories, and your earnings potential. Yes, we will be promoting the Cal State course, and we'll provide full details.
To do: Register for the free training on "Ghostwriting: How to Learn It, Do It & Retire Happy–2018 Update."
#Ghostwriting #Ghostwriters
4. Hound Video of the Week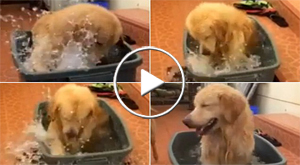 On a hot day, Ken the Golden Retriever can think of nothing better than to hop in a tub filled with cool water and splash around. Thanks to Publicity Hound Christine Buffaloe of Serenity Virtual Assistant Services for this one.