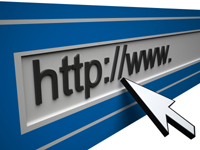 Several readers responded to the item I posted in yesterday's publicity tips newsletter about how Facebook is expected to announce this week that it's offering vanity URLs.
"What's the big deal?" one reader asked in an email. "Anyone can already do a short URL—yours would be http://profile.to/joanstewart."
She's right. Facebook already has an application lets users adopt a short URL for their Profile, Group or  Page. 
    
   
Two problems with those URLs
Lots of people use those shorter versions, but I don't like them for two reasons.
First, they aren't memorable. A URL for a profile looks like this: http://profile.to/joanstewart  A Group URL looks something this: http://groups.to/doglovers. And a Page URL looks something like this: http://pages.to/publicityproducts.
That's too confusing to remember. How many people, off the top of their heads, would remember the "to" part of the URL? Not many.
Second, those URLs don't have the word "Facebook" within them. Facebook FINALLY got smart and decided to offer easy-to-remember vanity URLs that, I hope, look something like this, and are so much easier to remember: http://www.Facebook.com/joan-stewart
We won't know for sure whether those URLs are free, or if we must pay. And we won't know for sure exactly what they look like until we see them. Even so, they'll probably be a whole lot better than the alternatives—the current app, or the long, unsightly URLs you're assigned when you create a profile. It looks like this: http://www.facebook.com/people/Joan-Stewart/541605146   
       
      
Facebook teleseminar tomorrow
Speaking of apps, When I host tomorrow's teleseminar on "11 Ways to Avoid Missed Opportunities on Facebook," we'll talk about a variety of apps, features and tools that many newbie Facebook users aren't aware of. I get so  many basic questions about how to use Facebook, and many of them deal with the same things, like the confusing user interface,  that caused problems for me when I created my own profile. 
My guest, Christine Buffaloe of Serenity Virtual Assistant Services, creates and manages Facebook for many of her clients and will share lots of tactics and strategies she uses to find friends, save time, spread the word, and promote products and services the RIGHT way, without getting slapped by Facebook. 
We'll cover things like the best way to promote events, how to create and promote Fan Pages, and how to use Facebook in conjunction with other social media sites like Twitter, LinkedIn and Plaxo. You'll also learn about a few simple things you can do to give you massive exposure.
The teleseminar is from 3 to 4:10 p.m. Eastern Time. If that's inconvenient, you can listen to the MP3 recording you'll receive within 24 hours after the call.
Register here. Hope to see you tomorrow!