One of my newsletter readers writes:
"We've used PRWeb a couple times for press releases.  The first time, last summer, resulted in a few small market radio show interviews.  The second release, this past week, which seemed to be more likely to gain some attention, resulted in nothing.  Zero.  We realize that a press release needs to be written well and newsworthy to get coverage, but also wonder if a release is more likely to get lost in the media sea through a service like PRWeb.
"In your experience, do you find EReleases.com more effective?  Or is there an even better service that may cost the same ($399) or less?"
The writer is making the Number One mistake that many people make with press releases: using them to catch the attention of journalists. Here's what I told the reader:
"You're using online press releases incorrectly.  In the vast majority of cases, you cannot rely on online press releases for media hits.  Why?  Because that's what everybody else is doing.  And a one-size-fits-all-media-outlets press release ends up appealing to no media outlets, many of which are different.  The far better way to generate publicity is through customized pitches to a targeted list of media outlets, either from you or from a publicist. (See How to Create a Media Plan.)
"The big advantage to online press releases is that you can use them to pull in lots of traffic to your website.  How can you measure results from such a release? Two ways:
"Within the release, you use a URL that leads people to a landing page at your website that was created specifically for that press release.  Then you check your web stats to see how many people have visited.
"You also set as a goal how many additional email addresses you want to gather as a result of that press release.  You are collecting email addresses at your website, I hope? I use the Hover Ad Creator, special HTML coding that creates the box that bounces down from the top of the screen at my website. This simple box TRIPLED sign-ups to my newsletter as soon as I started using it."
Sure, the media can find your press releases online and, in some cases, you generate publicity. But the percentage of success stories is slim. Anyone who is serious about using online press releases should subscribe to Expertclick, the Online Yearbook of Experts which will also let them distribute press releases. I've been a subscriber for several years and you can see some of the Expertclick press releases I've posted.
Two other huge advantages of Expertclick:
—A subscription automatically gives you a spot in the online Yearbook of Experts which journalists use frequently when looking for specific types of sources. I've interviewed dozens of Publicity Hounds who have been interviewed as a result of their Yearbook profiles.
—Because the search engines view Expertclick as an authoritative site, my Expertclick profile gets excellent ranking when someone types "publicity expert" into Google. In fact, I have the top three positions for that keyword phrase. The first position is the homepage at my website. The second is to the bio at my website.  The third is my Expertclick profile.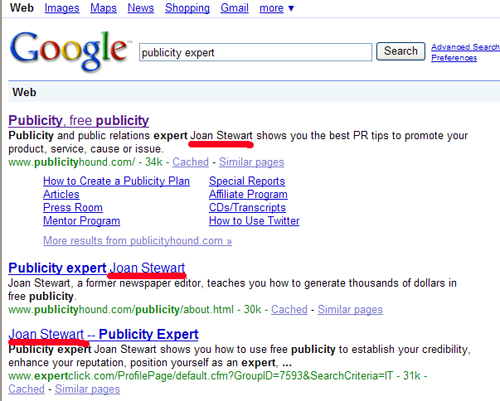 So, in effect, I've trounced my competitors for this keyword phrase, and I'm working hard to secure the fourth position. How well do you trounce your competitors? Are you even on the first page of Google?
If not, an Expertclick subscription could put you there. In addition to your profile, you can post up to 52 press releases a year at no additional per-release charge.
This week is an ideal time to give Expertclick a try because Mitchell Davis,  who runs www.NewsReleaseWire.com and Expertclick, wants you to "taste" his service and send press releases this week without cost or obligation. You can get a free week to send releases and create a Press Room Page about your business.  See their video about how it all works. You must respond by Thursday, Feb. 19. Call them at 202-333-5000 during Eastern Time office hours and for the "Free Week from Publicity Hound," and they can set it up for you.