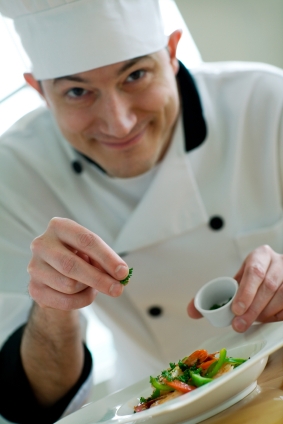 If you own a restaurant, bar or nightclub, don't miss the fabulous tips from Restaurants & Institutions on how to participate in social media.
Senior editor Alison Perlik offers sound advice on how to do more than just create a presence on Facebook and Twitter. 
Her tips are so valuable that they can be used by the owners of almost any business, not just restaurants.
She got me thinking about other ways restaurants can participate in social media. Some of my ideas also apply to owners of bars and nightclubs.
 

Go 'behind the scenes'
Use your Facebook Fan Pages to offer a few recipes from your kitchen. You don't have to give away all your trade secrets, but your Fans would appreciate knowing that you're passing along a recipe for your popular Sour Cream Apple Pie just to them. This is a great way to create Fan loyalty. And it's a super way to start accumulating lots of Fans.  (See 11 Ways to Avoid Missed Opportunities on Facebook.)
     
Ditto with mixed drinks. If your bartenders notice that customers are wild about your ice tea-based cocktails, for example, offer a recipe.
              
You can also use your Facebook Fan pages to offer customers special coupons.
                 
Share trends. Let people know what trends you're seeing in your business. This article in New York magazine is a good example of cocktail trends that customers might want to know about.  
              
Share with your customers and others what your chefs eat at home. Do they plop in front of the TV with a big bag of Doritos after a long shift? Or do they have a special healthy snack they can whip up in five minutes? If so, provide the recipe!
       
Interview customers about what they like about your food and drinks, and upload those  videos to your Facebook Fan Pages.
       
Upload photos of people having a good time (with their permission, of course) to photo-sharing sites like Flickr and PhotoBucket.
   
          
Make it easy for customers to find you
Let customers know where they can follow you on Twitter, Facebook, LinkedIn, YouTube, and other social networking sites where they congregate. Print this information on your menu, in your paid ads, on flyers they can take with them, on direct-mail advertising, on coasters at your bar, and on signs in your window.
           
Offer this information online, too—at your website, at your blog, in your email signature, and in videos.

Connect with journalists and bloggers
Many journalists are now on the social networking sites, particularly Twitter and Facebook. If you're dying to get in front of a particular journalist, Google their name and see if you can find them on a social media site. I Googled "Allison Perlik" and found her on Twitter, Facebook and LinkedIn.
   
Check out Harry Hoover's wiki of media people using Twitter and media outlets using Twitter.
       
Ask your customers for suggestions
Your customers might have some great ideas for ways you can interact with them on the social media sites. But you'll never know unless you ask them.
For more ideas on how to generate publicity in traditional media, see Publicity Tips for Restaurants, Chefs & Foodies.