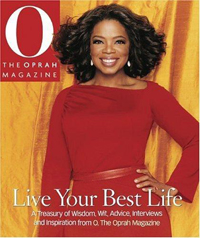 Sept. 11 is the deadline for pitching your business woman's success story, or your tips for women, for a special round-up of story ideas that will be presented to O Magazine editors and other top-tier media.
Publicists for PitchRate.com, which connects journalists with people seeking publicity, will take the best 10 to 20 pitches and present them to editors and guest bookers at Good Morning America, Women Entrepreneur magazine, and the Associated Press, among others.
Here's how you can participate, for free:
1. First, subscribe to their media leads service at http://www.PitchRate.com/PublicityHound
2. After you subscribe, you'll see a black bar at the top that says "Exclusive Requests." Click on that and submit your pitch.
3. If the media like what they see, they'll call you.
Publicists Michalle Tennant and Drew Gerber, graduates of  The Publicity Hound Mentor Program who now manage PitchRate, are soliciting pitches only from Publicity Hounds who read this blog and my weekly ezine on publicity tips.
Having problems with your pitch? Email Shannon and he'll help you.