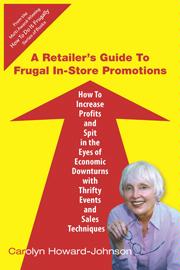 If you're a retailer who's looking for some clever ways to do fun in-store promotions in this sluggish economy, and you're on a tight budget, pick up a copy of A Retailer's Guide to Frugal In-Store Promotions by Carolyn Howard Johnson.
It's part of her "How to do it Frugally" series. When it comes to marketing on a shoestring, Carolyn knows all the tricks.  
On Pages 67 and 68, she lists some "frugal oopmph builders" that will also create a buzz in your community.
Here are her ideas. Many of them cost nothing or nearly nothing.  Some of them will even make your event profitable. 
Make your event so much fun or such a good deal that people won't want to put off their purchase until later—or better can't because the purchase is an essential part of goings-on. A Make It and Take It event falls into this category.  (A local ceramics shop that lets people make their own pottery can host a special "Make a Jewelry Dish for Mom" event just before Mother's Day. Invite a local reporter to bring her kids and report on it.)
     
Provide an ambiance that's different. Include color and scent and sound. There's nothing more delightful than a real Christmas party with wassail, carols, and the scent of evergreen. Forget those things and it's just another hard sell. (Include a description of the colors, scents and sounds in your press releases!)
      
Use a unique invitation. Send your customers one adorable earring for a Ring in the New Year party. (Include an earring in the invitation you send to a local reporter or blogger.)
                    
Let your refreshments sell additional products. Put packets of the cider you use for the cider near the punch bowl with a sign announcing the price. Have the host who ladles the punch talk about how easy it was to make and mention that the do-it-yourself packets are available for purchase. Stack tins—festively wrapped and ready to go—of the rum cakes you served up in finger-sized cubes nearby. Good signs are a must. (Off the recipe for the do-it-yourself packets to the food columnist at your local newspaper, and let her know about the in-store promotion.
    
Feature a tasting table of all kinds of other goodies you sell. If you don't sell foodstuffs, get someone who does to set up a table in trade for publicity at your event. (Many people will JUMP at this chance to participate because they hate doing their own publicity.)
  
Ask favored customers to help rather than hiring extra people. It is easy to get someone to be the honored punch ladler. Reward them with a gift and a public thank you. (Send a letter to the editor of your local weekly newspaper and include the names of people and businesses you'd like to thank. Also thank them on your Facebook page, by writing on their Facebook wall, and by complimenting them at other social networking sites where they hang out. See 11 Ways to Avoid Missed Opportunities on Facebook.) 
Bricks-and-mortar store owners can find lots more tips in my article on marketing tips for hardware stores and 13 publicity ideas for retailers. 
Carolyn, by the way, has three decades of experience as founder and manager of her own chain of stores. She has also been a New York publicist, and a retail consultant and journalist. Follow her advice, then be ready for the rush of customers.
The book, published by Thinking Store Press, is $17.95.