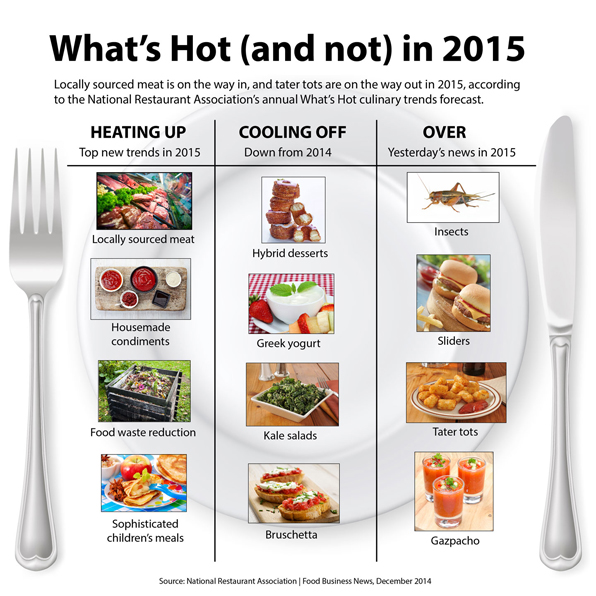 "I've opened a restaurant and I need publicity. What do I do?"
"Our adult education department is starting a series of cooking classes. But the local newspaper isn't interested in writing about them. How can I get the word out?"
"My supermarket will soon offer free delivery. Should I write a press release or do I have to buy an ad?"
In all three cases, generating publicity is a lot easier if you can tie into a food trend.
Food Genius, a Chicago-based firm, has identified 10 food trends, based largely on the convenience, healthy options and local ingredients that consumers are demanding. They include fast-food restaurants that are going mobile, more grocery stores offering dine-in options, and meal-delivery service for busy workers who eat at their desks.
You can see more hot trends in the infrographic from the National Restaurant Association and see their Top 20 Food Trends for 2015, including top trends by category.
Ideas for Piggybacking onto Trends 
Let's take each of the three examples above and piggyback off one or more food trends. 
Example 1:   
"I've opened a restaurant and I need publicity. What do I do?"
Are you using mobile technology?
Have you offered free meals to local food bloggers with the promise of telling them about national and local food trends that have helped you decide what to serve and how to prepare it? Do you have an unusual pricing strategy that will benefit customers?
Have you created a signature dish with an emphasis on healthy ingredients?
If you have an outdoor cafe, can people bring their dogs? At Fred's Mexican Cafe in San Diego, Doggie Date Night every Monday has been a hit. 
Don't just think food. Think drinks. An article in New York magazine explains how New Yorkers are crazy for sake, sidecars, pomegranate and flower blossoms.  
Example 2:
"Our adult education department has a series of cooking classes. How do I get the local newspaper interested in writing about them? Any chance I'll get TV coverage?"   
Are you offering recipes on your Facebook page?
Do you have classes for parents and their kids? If so, that could be a good visual for TV.  
What is your most popular class and why? Does that class tie into a food trend? 
Is there an emphasis on local ingredients? Are you partnering with local organic gardeners or a farmer who provides brown eggs and goat cheese? 
Example 3:
"My supermarket just started offering free delivery. Should I write a press release or do I have to buy an ad?"
What does your market research tell you about the need for free delivery?
Are local companies asking for it? Do you have an aging customer base that needs it?
Do you have an unusual mode of transportation, like bicycles, for small orders? Pitch these ideas and you shouldn't have to buy an ad.
Brad Phillips, aka Mr. Media Training, says, "Don't talk about the thing. Talk about what behind it."
What's behind your thing? Identify it and pitch it.