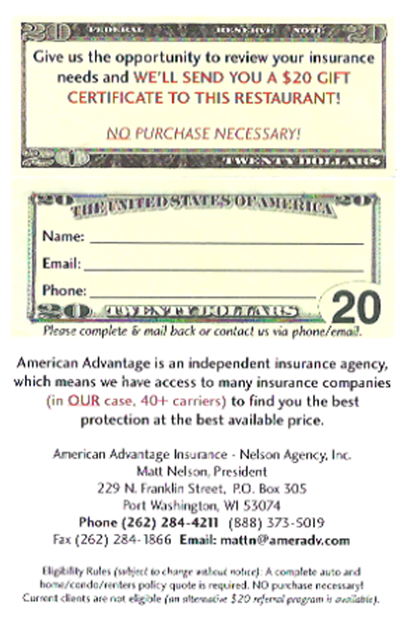 One of the best ways to get people in the door for your service-based business is to partner with another local small business and promote each other.
For Wisconsin insurance agent Matt Nelson of American Advantage Insurance – Nelson Agency Inc., the key to generating leads galore is offering a $20 gift certificate to The Pasta Shoppe, a popular Italian restaurant near his office in Port Washington where I live. All you need to do is call him and invite him to give you a complete auto and home/condo/renters policy quote.
On New Year's Eve, my friend and I saw this postcard tucked inside the leather folder that held our dinner check.
"Isn't this clever?" my friend said. 
Nelson says he gives away from one to two dozen gift certificates a month, almost all to people who really need an insurance quote and aren't mooching a free meal.
"I occasionally get a call and meet with someone and it doesn't work out. But our close ratio is high," he said. "I think that has to do with the way our agency is structured. We have 40 insurance carriers and we're able to perform well against other companies that have only one carrier and one set of rates. We have 40 markets."
DIY Promotion Idea for Other Small Businesses Too
On the way home from the restaurant, my friend and I rattled off a list of other service providers who could use this idea:
Attorneys looking for clients who need wills  
Accountants, including those with tax resolution practices  
Home improvement businesses like window, siding and roofing companies that can quote a project
Audiologists who offer free hearing tests
Dentists who offer free initial exams
Financial advisors 
Nelson also has a more lucrative referral incentive program for current clients. In addition to the $20 restaurant gift certificate, clients are eligible for a monthly drawing for a $100 certificate and a chance to win a 55-inch flat-screen TV at the end of the year.
"Years ago, we used to give away gas cards, but I thought that kind of promotion really isn't helping my community," he said.
The insurance agency includes other local restaurants in the promotion, too. 
"I'm a one-man marketing team," Nelson said. "My staff is helpful. But when money is tight and you don't have a big corporation that's helping you market, you have to use your brain and come up with something that works. This has worked out well for us."
What other businesses can you think of that can use this marketing idea? The Comments section awaits….