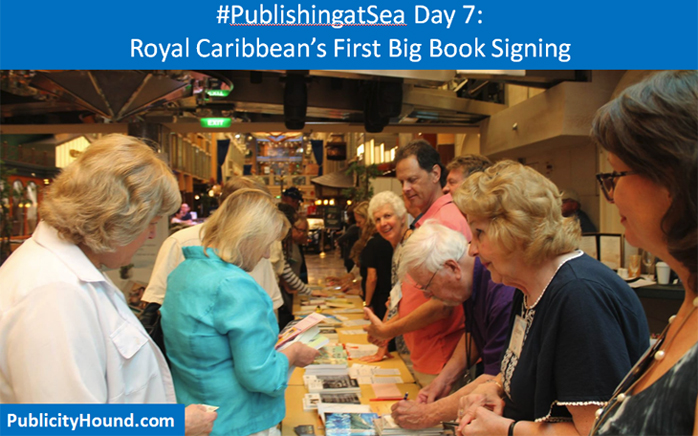 It's Day 7—Friday, Jan. 27—aboard the Freedom of the Seas, and this is the day we've all been waiting for, our first of two afternoon book signings aboard the ship. We can hardly wait.
But first, there are classes to teach and lessons to learn. This is an at-sea day, heading back to Fort Lauderdale. Here's a recap of what I consider the very best day on our cruise.
8 a.m.:
We juggle the schedule to make room for the 45-minute book signing this afternoon. Book designer Nick Zellinger is up first for his session on "Interior Design Elements and Tips." The three best takeaways:
You never want your interior design to look just like your Word manuscript. Book reviewers can spot that instantly and it shouts out "Amateur!"
Incorporate some design element from your cover into your interior. It keeps the design approach consistent and professional. Just don't overdo it.
A quick browse through your bookshelves or a local bookstore will show you all the varieties of styles and layouts that can be incorporated into an interior. Investigate the books in your genre to see the latest trends, and decide what might be the best approach for your book.  
9:45 a.m.:
Former book distributor Amy Collins takes the stage or her session on "The Ins and Outs of Amazon." The three best takeaway tips:
How your book page looks on Amazon is the first priority. The best pages have a cover photo, a "Look Inside" feature, a description with lots of white space and bullet points, an author bio, a price that's competitive with the page count, editorial reviews, and a professional publisher name. Even if you're publishing the book yourself, use a company name that doesn't sound like you or your book. 
If you're serious about selling books, you'll have an Author Central page. So many authors skip this critical step! Author Central lets you write a longer profile. You can import your blog onto your page, and do lots of other things to market that you can't do with the standard Amazon profile.
You need more than 84 book reviews before Amazon starts recommending your book to  other visitors in the section that says, "People who bought this also bought…"
11 a.m.:
Kelly Johnson, aka our "Geek Girl," shares dozens of "Hints, Tips and Checklist: Start Your Year in Review." Her three best:
Make sure your copyright reflects the new year.
Check with your domain registrar to ensure that your contact and credit card information is updated. Do you need to add services, such as privacy protection, to your domain? Will your domains renew automatically or manually? Be sure that you don't accidentally lose any domains that are important to your business.
Under Experience on your LinkedIn profile, add presentations and webinars. People can give recommendations for these as well as job positions.  
They're Buying Our Books!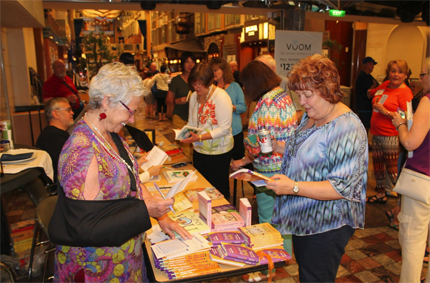 2 p.m.:
No one will admit it. But deep down, several of us have this sick feeling that a gang book signing aboard a ship, a first for Royal Caribbean, might not go over so well. After all, the casino is one deck away. It's gorgeous outside and the pool beckons. What if we're all standing there and no one buys?
Judith Briles, the eternal optimist, gives us a quick  crash course on how to do a book signing because for many of our authors, this is their first. Use a good pen. Engage the customers. Suggest your books as holiday or birthday gifts for family and friends. 
Royal Caribbean supplies several long tables set up on each side of the Promenade. Our authors are ready with their order forms and instructions on how to complete them.
As luck would have it, the place is packed because this is an at-sea day. And books started flying off the tables. Half of us who don't have books are taking photos and videos. We check in with the authors periodically and whisper, 'How many books have you sold so far?"
I wish you could see the shear joy on their faces. Every author sells at least one book. Some authors are almost sold out. Even Captain Tony, who is behind the wheel of the 4,000-passenger "Freedom of the Seas," takes a break and attends our book signing. He poses for photos with our authors. Here he is with Judith, our fearless leader, and two of her 35 books.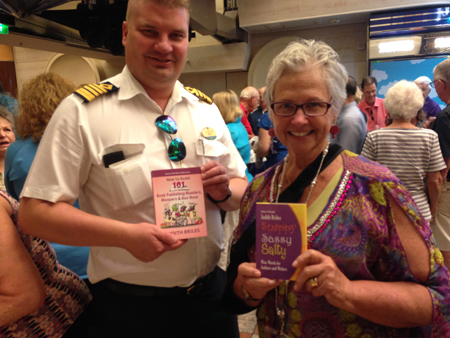 An hour later, a quick tally of the order forms shows we've sold more than 80 books. We owe a huge thank you to faculty member Daniel Hall for making this all possible. Daniel has spoken on cruise ships many times and put Judith in touch with one of his Royal Caribbean contacts to ask about whether we can do a book signing.
Here's the best part. We get to do it all over again tomorrow afternoon. 
8 p.m.:
I don't feel like going to a show to tonight. So I soak in the hot tub for 90 minutes with faculty member Amy Collins.
After I'm wrinkled like a prune, I wish I didn't have to go back to my room and write another blog post for this Publishing at Sea journal. But I  slave away over a hot keyboard anyway, hoping I can entice you to join us next year, Jan. 21-29, on the giant "Allure of the Seas." 
If you come, bring lots of books.