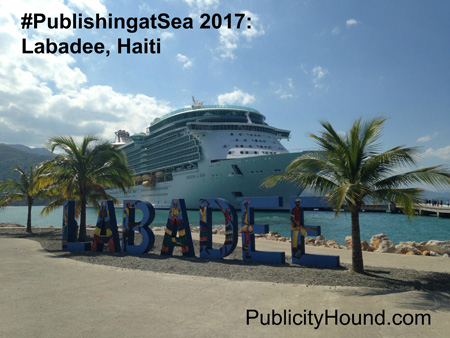 It's 88 degrees in the eastern Caribbean on Day 3 the fourth-annual #PublishingatSea cruise. I'm one of six faculty members teaching our 28 authors how to market and sell books. Here's a quick recap of today's events.
8 a.m.:
I sleep late today, our first port day. And by the time I awaken, the ship is in port in Labadee. Some of the authors in our group are going on a variety of excursions: the Dragon's Breath Flight Line Tour, Labadee Wave Jet Tour, and to the Beach Bungalows that lets them lay in the sun and then retreat to their blue and white striped beach bungalows.
But for me, today is a workday as soon as I buy a few treasures to take home.
9 a.m.
I grab breakfast in the Windjammer buffet, then head off the ship for a quick jaunt to the shop that sells handmade goods by the island women. I buy five quilted batik make-up bags and a pair of oven mitts, confident that the money will help the islanders.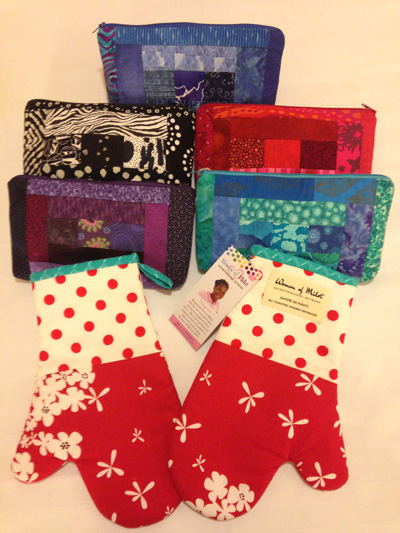 One in 10 children in Haiti lives in an orphanage. Eighty percent of those kids have families. Haiti Baba was created to give moms sustainable employment so they can help keep their kids out of orphanages and with their families.  
3:30 p.m.:
It's all aboard because we're headed for San Juan, Puerto Rico. If you're on an excursion you've booked through Royal Caribbean, and you aren't back on the ship yet, they'll wait for you. Casey Pelter, our activities director, reminds us that if we venture off on our own and we aren't back on time, "you'd better learn to braid hair, and we'll see you in two weeks."  
I'm back on board well ahead of time and I shoot video from the patio outside my cabin. 
8 p.m.:
If you've been on a cruise, you've seen the towel animals, those whimsical creations that sit on your bed and wait for you to return from dinner. They're made by the stateroom attendants who actually take towel-folding classes as part of their training. I always look forward to seeing whether a monkey, turtle, donkey or some other island creature will greet me.
Tonight, I return to my cabin and discover the TV is on—odd because I always turn it off before leaving the room. I figure the attendant was watching a favorite program while she was cleaning. About 10 minutes later, I notice the visitor on the couch next to my bed, sitting up straight, holding the TV remote and wearing my sunglasses: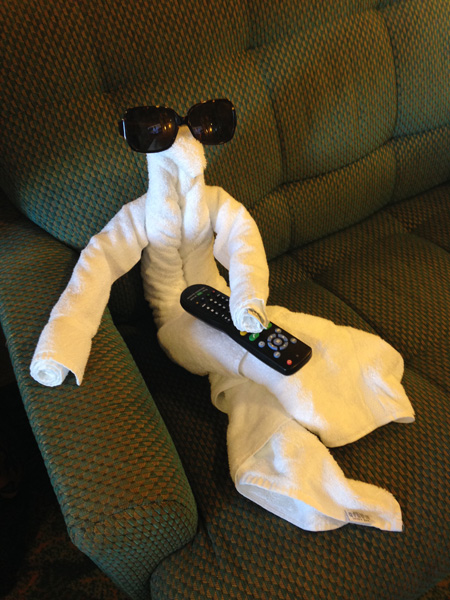 Thank you, stateroom attendant Sandra McElroy, for a good laugh. 
9 p.m.
I'm not an Elvis Fan, but they dragged me to see the headliner show: Travis Ledoyt, who does an excellent impersonation of Elvis in his "Tribute to the King." The shows aboard the ship are fabulous, and after four cruises, I haven't seen one I didn't enjoy. 
Today's activities included something for all ages: rock climbing wall, the movie "The Secret Life of Pets" on the big screen by the outdoor pool, a salsa dance class, music trivia from the '80s contest, teen karaoke, and a Battle of the Sexes game show.
Tomorrow: The foodies in my group are looking forward to our first of two food excursions, a food and culture walking tour through Old San Juan, Puerto Rico.