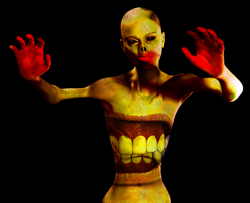 Karma Bennett, a publicist for Ulysses Press, asks:
"My company is publishing a compilation of zombie stories.  It will be direct-to-trade-paperback, so I can't get reviews in the leading periodicals that review fiction since it isn't coming out in hardback. 
"Some, but not all, of the stories have never been printed before.  The editor is not local and, although the compilation does include some of fiction's biggest names—Steven King, Clive Barker, Harlan Ellison, H.P. Lovecraft, Richard Matheson, Christopher Fowler, Robert E. Howard and Joe Hill—I don't think they will be responsive to interview queries. 
"We are only just starting to venture into releasing fiction and I'm not sure how to go about this. I can't get reviews. I can't get interviews. But the topic is zombies which are so popular now because of movies like World War Z, 28 Days Later, and the film version of Pride and Prejudice, and Zombies.
"Can your Hounds suggest ideas for publicity?"