When Seattle publicist Nancy Juetten told me about a clever hook she used to place an article about a client's product, a purse hook, in the holiday gift section of the November issue of Alaska Airlines magazine, I invited her to be a guest blogger and tell you in her own words. Nancy is the owner of Nancy S. Juetten Marketing & Communications and writes a monthly column called "Media Savvy" for the Puget Sound Business Journal.  The purse hook that's the subject of the publicity, by the way, is the perfect solution to germ-laden purses that can actually make you sick. 
 By Nancy Juetten
 Guest Blogger
A big part of media relations success has to do with how well you see, hear, and celebrate the media decision makers you approach with your story.  By paying attention to them, it just naturally happens that they pay more attention to you.
To that end, I did something thoughtful to invite the attention of the publisher of an inflight magazine about one of my clients. Zook Hooks Inc. offers fashionable and functional purse hooks that keep handbags off the floor and protect them from germs and other ills. This is a pretty compelling benefit for air travelers who want to keep their purses clean and safe. Position the hook on the edge of a table and hang the purse on the hook.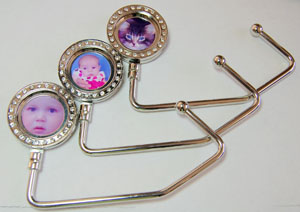 One of the Zook Hooks offers a photo frame that makes it easy to highlight images of your favorite people. 

Catch the media's attention
Mimi Kirsch, the publisher of Alaska Airlines inflight magazine, is a prominent local business executive in the Seattle area, and I received a postcard in the mail with her color photo featured. That postcard inspired me to insert her photo within a photo frame Zook Hook and deliver it—along with a compelling story pitch about why Zook Hooks would be a welcome and timely addition to the magazine's holiday gift guide—to her door. 
Within my email pitch, I provided active links to product photos to make it even easier to invite a "yes" decision for this potential editorial placement. 

Follow up sealed the deal
Within days, I followed up with an email that said: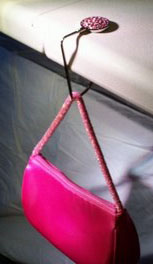 "Good morning.  I am just checking back to see if I made you grin with the Zook Hook purse hanger I sent your way with your picture within? I hope you are enjoying the additional bling for your purse along with the additional protection from germs and other ills. I'd be thrilled to learn if these items might earn holiday gift guide consideration in your magazine. I would love to hear back if you can spare a moment. Thank you very much for your consideration.  And enjoy your Zook Hook."
Moments later, I received an email confirming that Zook Hooks would earn a place in the November issue of Alaska Airlines magazine.
This example puts into clear focus the importance of seeing, hearing and celebrating media decision-makers to earn attention for the products, services and causes that are the center of any media relations effort.  I know that receiving a Zook Hook with the publisher's photo inserted within was a compelling way to invite attention. 
Delivering a complete pitch that made clear why the story idea was timely, newsworthy, relevant, visual and local offered credible support.  My follow-up effort sealed the deal.  Now, my client is earning the attention she deserves within the pages of an influential inflight magazine in perfect timing to fuel holiday purchases.
*      *      *  
Speaking of the holidays, Nancy has created Publici-Tea™-TO-GO!  Gift bundles perfect for the Publicity Hound on your holiday list. Each bundle features tea, Seattle Chocolate truffles, Biscot-Tea™, two do-it-yourself tips booklets on how to generate publicity, a CD filled with publicity success stories and more tips on how to get quoted in the media, become known as an expert, and write press releases that get results.  You can read your tips over a hot cup of tea—the bundle even includes the Prosperi-Tea cup and a tea bag. 
Nancy will donate 10 percent of the profits from each $57 bundle to NW Hope and Healing, a nonprofit that delivers healing baskets full of comfort and joy items like lotions, teddy bears, and hard candies to women diagnosed with breast cancer.
Also see The Publicity Hound's "Special Report #29: Fly High with Publicity in the Inflight Magazines."