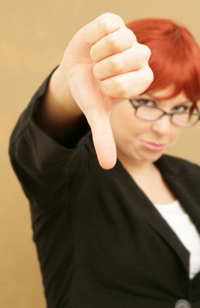 Ivy Mendoza of Manila, Philippines writes:
"My small PR firm just got an account that needs a lot of exposure in the lifestyle sections. The previous PR person had been sacked due to some anomalies which she was supposed to have committed while conniving with the client's marketing department.
"To neutralize the situation, the marketing people have gradually been replaced, the marketing manager was asked to resign, and the contract of the old PR consultant was no longer renewed.
"The problem is that the previous PR person has already started badmouthing the client to editors who she is very close to. One particular editor of a very highly-circulated newspaper has already declared that our client's press releases will not see print in her section anymore. They liked the old PR person and they believed everything that person said about the client.
"The client (not us, the PR firm) wants us to start on a clean slate, so they made an effort to appease this particular editor by setting up a meeting. But the editor flat out refused to meet with them and directly said that she cannot help the client anymore as far as press releases are concerned.
"What should we do? Her paper and her section are very important for our client because of its target readership and circulation. I advised the client to let the editor 'thaw' first and just use other sections of the same newspaper (Business, Entertainment, etc.) in the meantime. Would you have other tips for me as far as 'power tripping' media is concerned?
"Thanks much and I will really appreciate your help!"