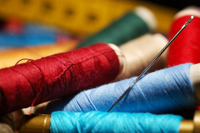 Cynthia Harvey of Pasadena, Calif. writes:
"I am a fashion designer, sewing instructor and fashion career advisor.
"I own The Sewing Studio in Old Town Pasadena, Calif., where I have fun teaching kids, teens and adults about the fashion industry and how to sew.
"For almost two years, I have taught hundreds of students. My goal is to teach 100 each month.
"How do I reach my goal without an ad budget?"