If you're dying to get onto Oprah, stop sending unsolicited books, press kits and other junk.
Instead, spend some time reading the blog posts from the show's 14 producers.
Yes, they blog. Is it OK to contact them? You bet! Check out the invitation: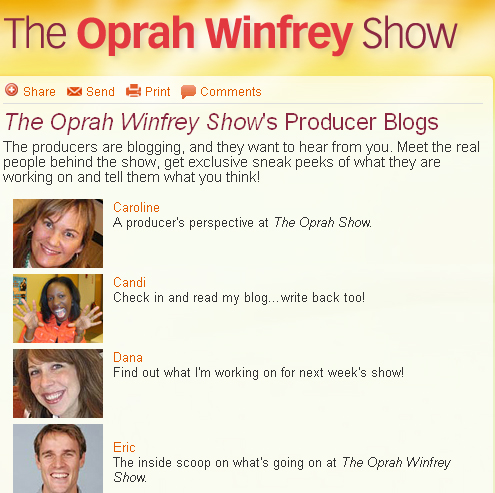 If you read just one week's worth of posts from producer "Caroline," the first producer on this list, you'd know that:
She likes mint chip ice cream.
    
She loves kittens.
    
She had a really tough week. 
Why does knowing that help? Because smart Publicity Hounds can weave information about those topics into their pitches. They can also take the time to comment several week's BEFORE they pitch. That shows the producers that you care about what they write. 
You'll be disappointed to learn that many of the producers haven't blogged since the summer. But if you take the time to read what they HAVE posted, you'll be a lot farther ahead than other people who are far too busy to do this kind of important research. I was surprised to see a skimpy number of comments at most posts. That tells me that people might not know about the blogs, or they read them but are too lazy to comment.
Susan Harrow, who I interviewed for tips on "How to Get Booked on Oprah," says the best pitches are those that fall within several categories that can be considered Oprah's hot-button topics. Reading the producers' blog posts will help you identify those topics.