Dear Oprah:
Welcome to the Twittersphere.
The 324,821 followers you've managed to amass in two days put to shame the measly 6,572 I've attracted in about a year.
But I can't help myself. Please, please, do something a little more creative with your bio! "Live your best life" is fine. Unlike the 140-character limit for tweets, however, Twitter gives you 160 characters for your bio.
Use them. Your Twitter followers, me included, are dying to know more about you.
I was hoping to give you a good example of a clever bio written by somebody you're following. But I checked out the bios for Ellen DeGeneres, George Stephanopolous and Ashton Kutcher and couldn't find much. The best was Shaq's description of himself as "Very quotatious, I perform random acts of Shaqness."
Here are three examples of bios I love, written by people I'm following:
@JudySL, aka Judy Lederman, whose bio I wrote about here. Check out her "location."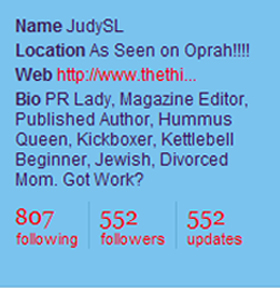 @whatsnext, aka BL Ochman: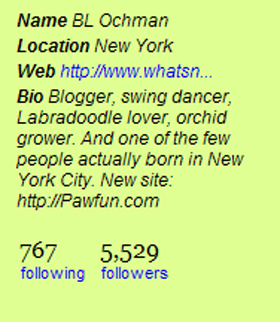 @ShermanHu, aka Sherman Hu: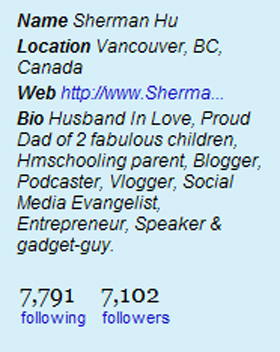 See what I mean? Here are five ideas for dressing up your bio:
1. Who's the cute dog in the photo? Tell us its name and the breed.
2. Food might be a sore subject. Like you, I've struggled with my weight my whole life. But consider sharing your can't-do-without comfort food.
3. What's your favorite music genre, singer or group?
4. Who are your favorite leading ladies or men, or favorite movie?
5. How do you unwind?
The very best resource I've found for learning everything about Twitter is The Twitter Handbook by @WarrenWhitlock, aka Warren Whitlock, and @CoachDeb, aka Deborah Micek.
In the meantime, I'm asking my Twitter followers to use the comments section below to pass along their best how-to-Twitter-better tips and their favorite Twitter resources, like the Massive Twitter Directory I wrote about here.
Have fun on twittering, Oprah.
Joan Stewart
The Publicity Hound