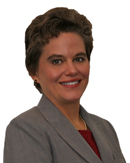 If you asked me to describe my ideal business partner, never in a million years would I envision someone with a PhD in sociology.
Such degrees, I always believed, are expensive pieces of paper printed by the diploma factories otherwise known as universities. They seldom lead to "real world" jobs outside of academia.
I certainly wouldn't want a Phi Beta Kappa tagging along with me. Such a highfalutin academic would be horrified to hear that I flunked five college courses and almost didn't graduate because I was three credits short of a diploma just six weeks before graduation.
Meet Jeanne Hurlbert, a PhD sociologist at Louisiana State University, survey expert and Phi Beta Kappa, who was studying social networks long before Facebook's Mark Zuckerberg was born. When I heard her on a teleseminar in January this year, I was hooked less than 10 minutes into the call. I emailed the teleseminar host immediately and gushed, "This woman is brilliant! Where did you find her?"
Jeanne (pronounced Jeanie) was the guest expert, and she was explaining the importance of using customer profile surveys to gather scientific data about what our customers want. Don't make false assumptions about products to create or services to offer, she cautioned, based on discussions you're having at social media sites.  False assumptions can derail your business.
Her message hit home.
For a few years, I'd been wondering where to take my business ever since newspapers started marching toward the graveyard. Traditional media has far less influence now than it did 20 years ago for any Publicity Hound who's self-promoting.
Two days after the teleseminar, I hired Jeanne as a consultant to help me create a customer profile survey. She suggested questions I never would have thought of asking, and she devised a clever way to generate customer testimonials for my website and product pages.
In March, when I was called to Ohio for a funeral for three days, right in the middle of the survey, she kept all the plates spinning, personally attending to dozens of customer service problems we encountered when the technology "hiccuped" and many of the respondents had trouble accessing the survey.
Social media: The bridge to a partnership

The results of Jeanne's survey were like the footbridge to our partnership.
Many of the respondents admitted that they were completely confused—and sometimes terrified—by social media.  Jeanne and I talked about how we were, too, when we started creating profiles at the social media sites and how it's still often overwhelming.
I confessed to her two of my big social media sins:
Blatant promotion without knowing any better
  
Being too embarrassed to ask about things I didn't understand. Here's a good example. When you go to a blog, why is there sometimes a big cluster of words in a box, and some of the words are bigger than other words? Sometimes, the words don't even appear to be related. I eventually learned that that's called a tag cloud. It's a visual representation of topics discussed at the blog.  The bigger the words, the more often they're discussed.    
Then she came clean with me:
She thought social media was a flash in the pan and only for kids. 
  
When she started participating, she assumed it would be a fairly easy ride because she'd been studying social networks for years and, after all, she had that PhD.  But she eventually learned that she was lost.
That's when I knew we weren't so different after all.
One conversation led to another. She interpreted my survey results and suggested new products and services I could offer my customers. The survey led to a shift in my business, with far greater emphasis on online publicity and social media.
Then, in May, Jeanne suggested we start a business.
She already had the technology in place to create a detailed questionnaire on any topic and return to the respondent a customized report  based on the answers. She called it an assessment, and suggested that the logical topic was social media and how people should use it for business.
We could combine her technology and knowledge of social networking with my more than 10 years teaching people how to self-promote. The results would be a customized "here's what to do" report that removes the fear for anyone struggling with social media and gives them hundreds of solid suggestions on how to map out a social media strategy and stay on track.
If I had something like that in my hands when I started blogging several years ago, I reasoned, I could have shaved years off my learning curve. I jumped at the chance to join her, and we formed My Social Media Solution, LLC. It's the perfect complement to my regular business, The Publicity Hound, and my weekly ezine, which will still be going strong.

Social Media Rx: Just What the Doc Ordered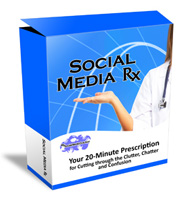 In a few weeks, we'll introduce you to "Social Media Rx: Your 20-Minute Prescription for Cutting through the Clutter, Chatter and Confusion."
After completing a 20-minute questionnaire, each respondent receives a customized report along with a formula that suggests exactly which topics they should be discussing at social media sites, and how often, based on their job and career, hobbies, interests, family, areas of expertise, and other factors. No two reports are identical. We've even applied for a patent to protect the process we used to create this product.
Your report comes with six checklists that detail which tasks you should complete daily, weekly and monthly at  social media sites. The checklists even show you which of those tasks you can delegate if you're lucky enough to have an assistant, and which you should do yourself, like writing your own blog posts.
More about this in a few weeks.
And She Loves Dogs!
Jeanne teaches spin classes at 5:30 a.m. She scuba dives. She loves spending time with her husband, Jack, and their 8-year-old daughter, Elizabeth. And she has two dogs.
We've never met in person. But it seems like Neily, her Corgi, and CB, her rescue long-haired Chihuahua, are on a first-name basis with Bogie, my German Short-Haired Pointer, and Tracker, my Weimaraner, because they all bark at each other while we're talking on the phone.
Jeanne and I often coordinate our schedules while walking the dogs, feeding the dogs, yelling at the dogs, dispensing treats, wiping muddy paws, shoveling dog food into bowls, and corralling them into their crates at night.
More than a few times, the daily walks for her two boys and my two girls have had to wait.
Social Media Rx has been more than eight months of back-breaking work and, often, frustration, particularly when it comes to technology. We're excited to finally introduce you to it.
And when we do, Neily, CB, Bogie and Tracker will be happy to have us back again.