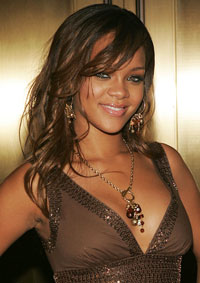 If you sell a consumer product that has a celebrity connection, or supports a good cause, you'll be able to pitch your product to the media, face to face, at a media event on Wednesday, April 1, in New York City.
Two shows—The Celebrity Connections Media Event and the Good Causes Media Event—will be held from 11:30 a.m. to 3 p.m. at the New York Marriott Marquis. Registration is $1,250 for up to 2 company representatives to attend.
Journalists are always looking for a great angle when it comes to covering new products, and many journalists are looking for products with a celebrity connection. The celebrities event will showcase:
—Products celebrities love like the jewelry that pop R&B star Rihanna is shown wearing at left
—Products they've endorsed
—Products from a celebrity product line (Rihanna also has her own line of umbrellas)
—Products that have been in a movie or TV show
—Products that have appeared in a paparazzi snapshot
Exhibitors at last spring's media event met and talked to representatives from more than 70 media outlets including "Good Morning America," "Every Day with Rachael Ray," Working Mother, Real Simple, People, O at Home, Lifetimetv.com, Bridal Guide, CosmoGirl!, Country Home, Parents magazine and Playgirl magazine.
The good causes event calls itself "an intimate showcase of products that do good deeds." It will feature products that have an association with a good cause or charitable organization, from saving the rain forest to literacy, solving world hunger and helping the homeless.
The show is limited to 50 exhibitors and offers agency discounts. If you're going, be sure to read the helpful tip sheet for exhibitors. If you're not going, remember to piggyback off celebrity news and gossip, regardless of what you're selling. This blog has an entire category of posts on celebrity tie-ins. Also see "Special Report #50: How to Piggyback onto Celebrity News to Promote Your Product, Service, Cause or Issue."