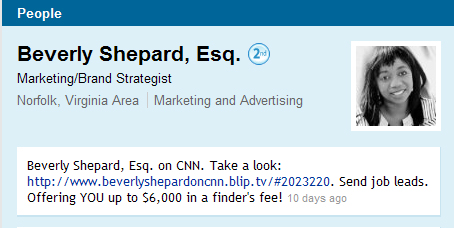 If you're unemployed and desperate, it's time to muster a little creativity, stage a kick-butt publicity stunt, and call on your LinkedIn connections to help land the perfect job.
Enter Beverly Shepard, who has been job-hunting for 16 months and jobless since January when The Virginia-Pilot newspaper eliminated her job as marketing manager and her entire department.
Here's her offer: Find her a job and you could win up to $6,000.
That's what she paid a professional search firm when she started job hunting. But the company failed to generate even one interview.
"I've paid strangers," she said. "Why not pay my friends?"
On March 15, she emailed her more than 200 connections on LinkedIn with the offer. The fee is based on a percentage of the salary for the job Beverly accepts.
A $120,000 job pays 5 percent, or $6,000. An $80,000-a-year job pays 1 percent, or $800. She has placed several conditions on the offer. It applies only to full-time positions (40 hours with benefits) and she must actually accept and start work on the job.
She's willing to move anywhere in the U.S. and she's open to a wide range of jobs in marketing, business development or public relations.
LinkedIn email pays off
Within 15 minutes of emailing her LinkedIn connections, the leads started pouring in. When her friend, Publicity Hound Gail Kent of The Buzz Factory, heard about what she was doing, Gail offered to write a press release. That led to an avalanche of publicity.
The ABC affiliate in nearby Norfolk called for an interview. That sparked more publicity from FastCompany.com, BlogTalkRadio, TheEbonyNetwork.com and BlackAmericans.com. A friend who's a college student posted the Norfolk TV interview on iReport.com, the citizen journalist website for CNN. The biggest media hit was an interview on CNN network news April 18.
"I've gotten so many leads, I've stopped counting," Beverly says. "I've even heard from an old boyfriend who said he'll keep his eyes open for jobs for me."
So far, she's had one job interview as a result of the "Woman for Hire, Will Pay for Work" campaign, and another interview later this month.
She has even heard from Kathryn Troutman, The Federal Resume Guru.
"Kathryn heard about my campaign, emailed me and said she'll keep me in mind," Beverly said.
LinkedIn, it turns out, is a super tool for job-hunters.  Scott Allen, a LinkedIn expert who I interviewed last year during a teleseminar on How to Promote Anything on LinkedIn—Ethically & Powerfully, said connections are usually willing to help you promote something, even yourself, as long as they know you're sincere and that you don't abuse your relationship with them.
More about Beverly Shepard
Interested in promoting or hiring her? You might want to know:
She has also worked for The Atlanta Journal-Constitution and Cox Enterprises, Inc.
She's the vice president of marketing for the American Marketing Association for the Norfolk, Va. area and the former president of the Atlanta Association of Black Journalists.
She's an award-winning marketer with 20 years in newspapers, and degrees in journalism and law from the University of North Carolina-Chapel Hill.
Email her with leads.You can also find her on Facebook. Find her a job, and you're in the money.