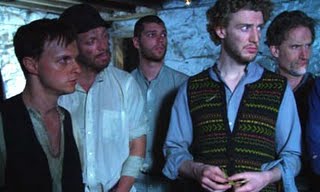 Maria Antonia of New York, N.Y., writes:
"I volunteer for a small independent film company based in New York, NY.  We recently completed filming for a feature film called 'Under Jakob's Ladder.' 
"Set in the Soviet Union in 1941, it's based on a true story about a man who was thrown into prison for praying at a funeral. We're still  editing the movie and it's almost ready to be screened. (A photo taken during shooting is shown at left.)
"How can we spread the word that this movie is coming soon? Any ideas for unique and intriguing ways that we can use our blog, website, and our Facebook page to get people interested? What would make YOU want to go see an independent feature film that doesn't have oodles of money for advertisements? 
"Remember, we're not studio backed.  Right now, we're looking at releasing this movie ourselves and booking our own theaters.