If you're hosting a local event and you can't convince the local media to cover it beyond a minuscule calendar listing in your weekly newspaper, you're sunk. 
But do it right, and you can be blessed with sell-out crowds.  
When I agreed to serve as chair for the 2017 Garden Walk July 8 hosted by the Port Washington (Wis.) Garden Club, I knew the publicity would be on my shoulders. The event has had dwindling participation the last few years because as many as 10 other garden walks have been on the same Saturday in July.
Ours is one of three major fund-raisers for horticulture scholarships and other community programs, and I made sure I hit a home run. Mountains of publicity and perfect weather attracted about 350 people,  almost 100 more than last year, and helped us raise more than $1,700.
Here's how I did it.    
What Else is Happening?
If you have flexibility when planning your event, check to see what else is happening on the same day because your event will be competing with it for crowds and publicity. Call your local chamber of commerce, tourism board, and do online searches for event calendars for your city, county or state.    
Our club doesn't have the luxury of switching the date, however. The Garden Walk has to be sandwiched between July 4 and our town's big Fish Day festival on the third Saturday in July. We're stuck with the second Saturday and all that competition from other garden walks. By late July, gardens are starting to turn brown.  
Before you choose a location, avoid traffic problems by checking with your city or county road departments to see where road construction projects are planned. In the town where I live, road repairs are clustered in one section of the city, this year on the north end of town.  The gardens we chose were on the south end, far from the construction equipment and detour signs.        
Create an Event 'Bible'
Each fund-raiser for our club has an accompanying "bible," a three-ring binder filled with how-to information, newspaper clippings, copies of email notices, flyers, correspondence and other marketing materials. Each also has a month-by-month breakdown of tasks that need to be completed by the event chair or delegated to other committee members. 
That's where I started. The Garden Walk Bible tipped me off to several regional gardening publications I didn't know existed.
Submit Calendar Items Early
Calendar listings can make or break your event.
Some of the regional magazines have deadlines of four to six months ahead, so start early. Our local chamber of commerce has a quarterly Visitors Guide with early deadlines. I had to submit information by the end of last year.
Most publications let you submit calendar items at their websites. Several let you submit photos, too. Take advantage of it! If it's an annual event, submit a photo from the previous year.
The Garden  Walk Bible told me to check the deadline for submitting information to the Milwaukee Journal Sentinel, our local metropolitan daily, for its annual listing of dozens of Garden Walks in northeast Wisconsin, I went one step further. I called the editor and asked if I could submit a photo. She said yes, and it was included in an earlier version of the online edition.
I also tipped her off to next year's walk that will feature six gardens along Lake Michigan, all within walking distance of each other. She invited me to stay in touch with her and pitch her next year, possibly for a larger story. Email or call reporters or editors you'll be working with, and let them know you want to make their jobs easy.  
Even though the item about this year's garden walk was just one small paragraph in a very long list, it alerted garden lovers from the Milwaukee area who were willing to drive a half hour to our event. I worked as a docent at one garden and asked most people who came through how they heard about it. "From that long list in the Milwaukee paper," several said. Two other visitors said they Googled "2017 Garden Walks."
Check for Special Sections
Sometimes a special section in a newspaper or magazine is the perfect location for a small notice or larger story about your event. Our local weekly, The Ozaukee Press, had a special gardening section in May that I didn't know about. When I saw it, I kicked myself because I could have submitted an item.  
Call the advertising department at your local publications and ask for a copy of their editorial calendar. This is the month-by-month listing of special sections and topics that will be featured throughout the year. Editorial calendars exist primarily for the benefit of advertisers who need to budget their advertising dollars for certain months of the year. But these calendars are equally valuable even if you don't want to buy ads because they tip you off to publicity opportunities. 
Write Customized Press Releases
Resist the urge to write only one press release for the event. Look for opportunities to customize press releases depending on the media outlet and what angles would interest their readers.
I wrote two releases. The main release highlighted all five gardens for the papers in our area. A second release featured details only on the garden that was in the circulation area of the other weekly paper. That paper asked us for photos to accompany the release which they published word for word. 
Pitch Story Angles Too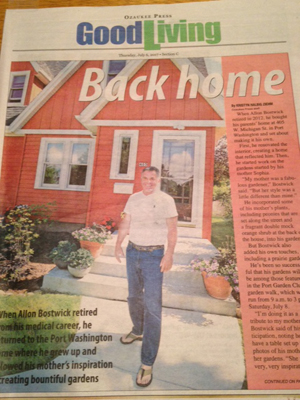 Don't let press releases tell the whole story. Find interesting angles related to your event and suggest them as larger stories. (See the pros and cons of press releases vs. pitches)
For our local weekly, I called the features writer and suggested two angles:
—A story on Allon Bostwick, who agreed to let us feature his garden in honor of his late mother who instilled in him a love of gardening. When he retired from his medical career, he returned to the Port Washington home where he grew up and followed his mother's inspiration in creating bountiful gardens. I knew he was planning to have old photos of his parents and their garden on display. I thought the paper might be interested in printing some of those photos.
—A story on a tiny patio garden on an L-shaped plot of land behind a garage. The owner, Kim Bradley-Cibik, uses dozens of thrift shop finds such as galvanized washtubs and metal baskets as planters for her annuals. She hangs antique mirrors and even a chandelier in the fenced-in patio.  I suggested this angle because it was so unusual and tied into the theme of "Big Places and Small Spaces."
Success!
The Ozaukee Press liked the Allon Bostwick angle and called him for an interview and photos. Two days before the Garden Walk, the newspaper printed a small photo of him and a teaser on Page 1, leading to the huge photo and story on the front of the features section. The story jumped inside and included three more photos. 
The paper also ran Allon's recipe for basil pesto along with other pesto recipes on the food page. (Think food angles when you're looking for story "hooks.") And they reprinted my press release again, almost word for word, in the back of the section. 
This big package was, by far, my best publicity hit. 
Distribute Flyers Everywhere
Print more flyers than you think you'll need. We distributed ours in places where the public and gardeners hang out: at nurseries, coffee shops, grocery stores, libraries, etc.
A woman I spoke with asked for a stack of flyers so she could put them on her table at a local farmer's market. We ran short and had to print more.
Scrolling Signs
Look for scrolling signs in front of banks and businesses and ask if they'll include a calendar item about your event. One business owner in my town told me he has to practically beg people to submit items. 
We also erected three 6-by-8-foot signs on the outskirts of town, two weeks before the Garden Walk.
Offer Gift Certificates
If someone asks you to contribute a few gift certificates for admission to your event, or for a silent auction, say yes. It's wonderful marketing.
We contributed two gift certificates to the Treasures of Oz, a local group that promotes parks, nature areas and other environmental gems.
Give a Phone Number 

Nothing is more frustrating than not knowing who to call if it's pouring rain and you're wondering if the event has been canceled. I gave out my home phone number on all marketing materials. I got three phone calls from people who had questions. The day of the event, forward calls from your home phone to your mobile. 
Don't use a phone number for a business that people can only reach during business hours.  
Let the Chamber Know
In small towns like mine, local Chambers of Commerce sometimes have a recorded "event line" on weekends that lets people know what's happening around town. My chamber gave us 50 maps and tourist guides which we placed at the five gardens. 
Facebook
I created a Facebook event and shared photos. Only a few of our 33 members are on Facebook, so it was pretty much up to me. This wasn't a high priority but we'll devote more attention to it next year.
Letters to the Editor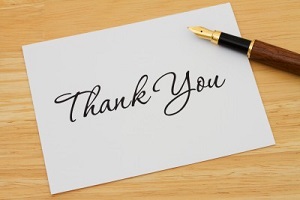 After the event, write letters to the editors of newspapers and magazines that ran stories on your event. Don't thank them "for giving us publicity." They don't see their jobs as giving anyone publicity. They want to cover stories that interest their readers.  
A better approach is to thank everyone who came to the event and let the newspaper know that their photos and articles "helped us raise more than $1,700 for our scholarship fund."
After the event, you should also revisit the "Bible" and add materials you collected from your most recent event and any notes for next year.
This is a short list of the many ways you can publicize local events. If you'd like to add to this list, the Comment section awaits…