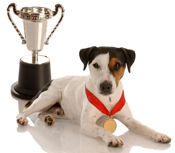 How has my free ezine, "The Best of The Publicity Hound's Tips of the Week," changed your life or your business?
That's the question you should answer if you want to win $500 in products or consulting services from me.
Why $500? Because I'm doing this to promote Issue 500 of my newsletter, which I'll publish on April 13.
Last week, I asked you for help on how to promote the 500th issue, and got several excellent suggestions. This promotion combines two ideas submitted by Publicity Hounds Diana Ennen and Kathy Slattengren.
The rules
Answer this question in 200 words or fewer: What new publicity tactics do you use as a result of reading my publicity tips and what results did you experience from them? (You may link to a newspaper article/TV show clip). PR pros can discuss ideas they used for their clients.
The 10 best entries I receive will be put to a vote by Publicity Hound readers (people will only be able to vote once).  The more helpful the tips in the entries, the better chance they will have at making the ballot. Blatant commercials that just promote you or your business won't make the cut.
The winner gets a choice of $500 in products or consulting services, or both.
All entries become property of The Publicity Hound and can be used as testimonials at my website or blog.
And a Free Ebook of Ideas…
Now, I'll sweeten the deal. All entries that adhere to the rules will be compiled into a free ebook that I'll offer to all my readers, and I'll encourage them to pass it along to their friends, followers and connections on the social media sites.
That's a TON of publicity for you, with a link to your website or blog, if you participate and share a great entry.  Again, don't enter if all you can offer is a free commercial or I won't approve your comment or include you in the ebook. I want a success story and an explanation of how the tip worked for you.
Have at it, Hounds. Post your comments below. Next week, I'll explain how to vote.