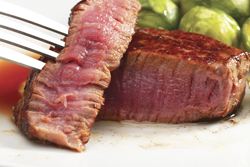 Jeff Clear writes of Monument, Colo., writes:
"I do the Internet marketing for Lasater Grasslands Beef, a grass-fed beef ranch in Colorado.
"Our target audience consists of environmentally conscious people, moms who want to feed their families healthy beef, and people who have spent money on vitamins because they have already proven they will spend money on health.
"Our beef is sold in Whole Foods, so that will give you an idea of the demographics of our customer base. Our grass-fed beef has less saturated fat and is lower in calories than grain-fed beef, and has no hormones, additives or pesticides.  It has higher amounts of omega-3 fatty acids and other vitamins.
"What's the best way to reach our target market online?"