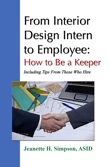 Jeanette Simpson of Lakewood Ranch, Fla., writes:
"I have just published my first book, From Interior Design Intern to Employee: How to be a Keeper (Including Tips from Those Who Hire.)"
"It's written specifically to help interior design interns transition from college to career.
"Aside from social networking, contacting university design departments and all vendors, reps, designers and architects I know, how can I reach my target audience—college students?
"Any advice from your Publicity Hounds would be greatly appreciated."