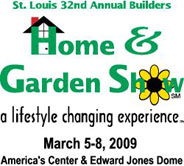 Lori Feldman of St. Louis, Mo.  writes:
"My client is a home and garden show that's produced in four cities—Pittsburgh, St. Louis, Indianapolis and Portland—from late February through early March.
"We're launching a social media plan for this company that has done nothing but traditional advertising for the last 50 years!  Last year was the first time they even attempted to collect email addresses from attendees, so we have a list of 20,000 we can use.
"As you can imagine, ad costs significantly increase each year with significantly declining ROI.  So the challenge was to find alternative media to combat the ineffectiveness of old media.  They also face these hurdles: Home starts and real estate are way down.  Young people have not supported these live shows (but this could be due to a lack of an online presence).  All marketing is local—you're not going to jump on a plane to attend.
"Because time is short, I'd like to get as many suggestions from your readers as possible to consider every option to increase traffic.  The pre-show promotions site is http://www.ImproveYourHomeAndGarden.com. We'll be press releasing, tweeting, and social networking between now and show day.  I can do a shopping spree contest winner.  Thoughts?"