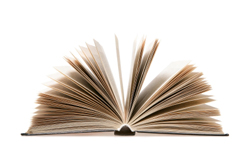 For sales people and business owners ONLY:
Answer this question in 10 seconds or less. If you sell a product or service, what's the one thing that sets you apart from your competitors?
If your answer isn't "a book," you could be leaving money on the table.
If you own a business/professional practice, or certainly if you sell something high-ticket, you should really consider becoming a published author. Publishing a book establishes your credibility as an expert. It serves as a fancy brochure that puts to shame all those other boring, three-panel brochures your competitors are printing.
A book also gives potential clients and customers a chance to know, like and trust you—long before you ask for the order.   
To discover how to get a book out quickly—even if you have no writing skills and haven't got a clue what you'd write about— join Steve Harrison for a free webinar (or telephone seminar) today, at either 2 or 7 p.m. Eastern Time. It's called "How to Grow Your own Business by Having Your Own Book and Getting it Done Quickly."
Here's just some of what you'll discover later today:
How to quickly create a book that attracts clients.
  
Why a book instantly gives you expert status in your market or industry.
  
The secret to quickly getting your book done even if you think you have no time or no writing skills.
  
How one professional more than doubled his closing percentage simply by giving prospects a copy of his book.
  
Wondering what you'd write about?  You'll see lots of examples of good books you can quickly model.
  
How a book makes prospects and clients feel like they know you long before you ever meet.
  
Why bestselling author Robert Kiyosaki jokes his book is a "brochure" because it brings him so much business.
  
How having a book makes it easier to get publicity in newspapers and magazines plus radio/TV shows.
  
Want to raise your fees?  How having your own book can help.
  
Pros and cons of various publishing options.
  
Critical mistakes to avoid if you want a book that actually brings in paying clients.
Many authors write books because they have something valuable to share with the world. But they invest years of their time writing it, and by the time it's done, they're tired of it. They see lackluster sales, and they move on to something else.
Don't be one of those authors. Write a book quickly to upsell potential clients to other high-ticket products and services. Register for the free teleseminar.