When I speak at author conferences, I usually end up with an armload of books I know I won't read but will donate to Goodwill.
Authors foist them on me, even after I decline politely, tell them I have little time to read and that if I did read, it would be a magazine or a mystery novel.
Still, they think that giving away copies of their books—even to people like me who aren't interested —will somehow make them sell more.
That's why I was pleased when client Kathleen Watson, who published her book "Grammar for People Who Hate Rules," bought a Rent My Brain hour just before she launched. She sought my advice on a variety of book marketing ideas, including whether she should give away a lot books.
Proceed with caution, I told her, or before you know it, it will be time for another print run and you'll have little to show for your efforts.
Kathleen emailed me yesterday with great news. She had a well-thought-out plan, and it's working. I'm reprinting her email below, with her permission, to show you her thought process, and to encourage you to devise a plan, as she did. Here's her email:
When my grammar book was published late last summer, I left a copy in the offices of people who provide me with services: my dentist, my financial adviser, my hairdresser.
I just received an email from a second person who has reported ordering copies after seeing it in my dentist's office.
My hairdresser told me a woman said she was planning to order copies for her grandchildren, and the receptionist in the financial adviser's office told me of a woman who got out her phone and took a picture of my book so she could order it.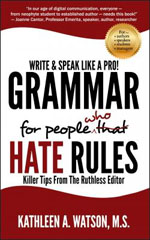 Epic Systems, the medical software company headquartered in Verona, Wisconsin, just west of Madison, has placed its second order for 100 copies (the first was in late April, the second in early June) to sell at a discounted price to its employees and to visitors who come from around the world to train at its headquarters.
Epic's founder/owner, Judy Faulkner, has a reputation for being elusive, which is why I didn't try to email or call her about my book. I sent her a copy with a cover letter. It took seven months, but a staff member finally ordered the first 100 in late April.
I offered to have a poster made to display with the books, which are available in Epic's two campus bookstores. My contact said she would be happy to have the posters printed in their in-house print shop, so all I had to do was email a PDF.
One of the blog signups I got in the last week was from a woman whose company Epic serves. She saw my book in Epic's online catalog, ordered it, and subscribed to my blog posts.
About Epic:
In addition to its headquarters at Verona, Epic also has offices in The Netherlands, Dubai, Singapore and Copenhagen. Epic employs approximately 8,000 people in jobs such as software developers, technical problem solvers, project managers, user experience designers and other roles.
Epic is privately and employee-owned. In order to ensure the company remains private, Ms. Faulkner created a charitable foundation that her stock will go into and allow the company to remain privately held. The foundation is called the Epic Heritage Foundation. In 2014, Epic's gross revenue totaled approximately $1.77 billion.
I remember your advising me to use care with giving away books. My sense has been that if people see it and can look at the clean layout and ease of reading, I'll have a better chance of selling it. Yes, I try to use good judgment about the potential for sales. But I certainly haven't regretted any of the giveaways that resulted in these sales!
Emphasize the Local Angle at Events 
Kathleen didn't stop there. I wrote about her several months ago and how she has gotten publicity by piggybacking off National Grammar Day for publicity, even though she didn't created the "holiday." She's a tireless marketer who shared more successes in her email. In the poster at left, notice how she stresses  "the local angle" when promoting an author event in Janesville, where she grew up. She writes:
Regarding marketing in general, I have three book signings scheduled so far (working on a couple of others) for my summer/fall time in Wisconsin: two in Madison (East Towne and West Towne Barnes & Noble stores), one at an independent bookstore in my hometown of Janesville, and I've just proposed to two fellow women authors here in Madison that we have an event: Words, Wine and Women Authors, or something like that.
I'm attaching a poster I developed for the Janesville signing that I'll distribute to Janesville coffee shops right after the 4th of July holiday. I googled and called each one, as well as a couple of other businesses, to be sure they will post it.
Promotion takes a lot of time and energy. Yes, there have been disappointments. I'm most surprised by the people who don't return phone calls or emails.
But I get a fresh surge of energy when I receive an email such as the one I got this morning … or when I get a reorder for 100 copies!
Kind regards — and thank you for all of the continuing Publicity Hound free tips!
How to Devise a Plan for Book Giveaways
Here are The Publicity Hound's other pointers to follow if you're creating a plan to give away hard-cover or paperback books.
Identify the target audience for your book, and pinpoint where they hang out and are apt to pick it up, like Kathleen did when she sent her book to service providers. Have a children's book? Offer it to pediatrician's offices and children's dental clinics. Write about sci-fi? Offer it to men's barber shops and grooming salons. A romance novel? How about the local spas and nail salons?
Tuck a note inside the back of the book, inviting readers to post "an honest review" on Amazon. If your cover is horrible, and most are, don't ask anyone for a review. 
Offer—don't just send unsolicited—copies to reviewers, especially Amazon reviewers. I recommend Debbie Drum's Book Review Targeter software (affiliate link). It acts like an Amazon search engine and identifies reviewers who review books that have the same keywords as your books, and whose email addresses or website addresses are public. It also writes your pitch for you.
 Offer self-help books to influential people who can recommend it to their customers, clients and friend. A retired veterinarian in my garden club recommended a book on how to grieve the death of my dog. 
Donate the book to silent auctions and events where your target audience will attend.
Authors ask me, "How long do I have to market my books?"
My answer: "Only for as long as you want to sell them."
Have I missed a tip? Share yours in the Comments.