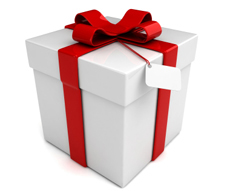 If you sell a consumer product or service that would make a great gift for the holidays, this is the perfect time to take advantage of a 25 percent discount to The Gift List, a subscription service that provides pitching tips and contact information for hundreds of media outlets that are planning special gift coverage.  
"This year more than ever, we've seen later deadlines at some very large national outlets," says Amy Bates Stumpf. "And if you haven't already noticed, the short leads for print outlets, including weekly national publications like People and US Weekly, regional publications, weekly and daily newspapers, are starting to show up online as we talk to editors about their upcoming plans for the holidays."
Her media lists deliver contacts for national and regional magazines, the top 250 daily newspapers, news wires and syndicates, national television, and national radio, as well as a list for websites and blogs.
Amy says it's still early for some newspapers and regional publications, which is why you'll see additions to the list throughout the end of October.  "We've also started hearing from our broadcast outlets and will continue to load these as they make the decisions for holiday content."
She's offering the discouint for either the Print & Broadcast list or the Web & Blog list because Publicity Hounds might feel like they've missed out on the call for early pitches.