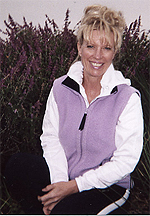 When I found a big splotch of dried chocolate ice cream on the bottom of my Coach purse last week, I was mortified
How long has THAT been there, I wondered. And how many people have seen it and said nothing?
The next day, I read the first item in Marilee Tolen's ezine, titled "Can Your Purse Make You Sick?" And suddenly the dried ice cream didn't seem that bad.
Marilee, shown at left, a member of The Publicity Hound Mentor Program, calls herself "The Home Spa Lady" and teaches you how to turn your bedroom, bath and kitchen into a spa. Her ezine referred to an article she had read that discusses the germs, bacteria and other nasties that attach themselves to the bottoms of women's purses—and sometimes end up on our kitchen tables, where many of us routinely drop them.
Nelson Labs in Salt Lake City tested the bacteria type and count on the average purse. Almost all the purses tested were high in harmful bacteria like Staph Aureous, Pseudomonas and E-Coli. In one sampling, four out of five purses tested positive for salmonella.
But the worst finding was—yikes!—fecal contamination. Many women put their purses right on the floor when visiting a restroom, or in the seat of a supermarket shopping cart, where babies in diapers sit.
The article really caught my attention. What forced me to read it? It was the headline: "Can Your Purse Make You Sick?"
That's called a formula headline, and it's the kind of headline you often see on the covers of big magazines.
That got me thinking. Many Publicity Hounds can use a variation of that same headline in their own press releases, blogs, ezines, articles, columns, letters to the editors or even direct-mail pieces. A health expert could write an article titled "Do Video Games Make Your Kids Sick?" A chiropractor could write one titled "Does Your Office Chair Make You Sick?"
Here's how to find formula headlines and turn them into your own.
Stand in front of a magazine rack with a notebook and a pen. Or visit Magazines.com. Then click on a few magazine covers. Look for headlines that catch your attention. Can you remove a word or two and substitute your own words to conform to your own topic?
If so, you've just come up with a fabulous headline that can really capture the attention of an editor, or a TV producer who's looking for a talk TV show guest. (You can find more samples of formula headlines in this article I wrote.)
Once you have a great headline and a content-rich how-to article, start posting the article to article directory sites, where publishers and editors can find them and reprint them. Small business expert Sharron Senter, who was my guest during a teleseminar called "How to Submit Online Articles That Pull Traffic to Your Website," said her articles generate 30 to 100 sales leads a month.
That's because consumers find the articles, click through to her website, and email or call her with questions and comments.