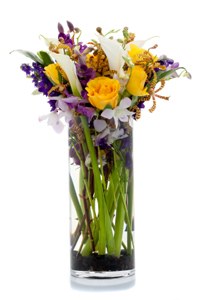 Cheryl Muskus of Oak Creek, WI, writes:
"I'm the owner of  The CarmelRose, a floral shop, and I'm looking for ways to generate publicity in a very competitive market.
"Even though our industry is hurt to a large extent when obituaries state 'in lieu of flowers, the family suggests donations to…," we're trying to form relationships with local funeral homes so they can refer us to families that are buying flowers for the funeral.  I'd also like to target the local corporate market because revenues from local businesses that need floral arrangements can be significant.
"What ideas to your Hounds have for events I can sponsor at the shop or elsewhere, story ideas I can pitch to the local media, press releases I can write, photos I can offer the local media, opportunities for getting onto local TV, and joint venture partnerships I can form with other businesses? 
"Also, suggestions for using social media would be appreciated."