This is for the doubting Thomases who aren't convinced that social networking can be profitable.
I promoted last week's teleseminar series "How to Use LinkedIn to Promote Anything–Ethically & Powerfully" by creating an event on my Facebook page.  My assistant then invited my 1,028 friends.  At $77, I wasn't sure how many Facebook friends would attend, but it was definitely worth it.
Fifty-four people RSVP'd to tell me that they were attending, or had already signed up.  That's $4,158 in registration fees just from Facebook!  Something else started to happen.  I started to build the buzz about these teleseminars.  Warren Whitlock, one of my Facebook friends, wrote on my wall: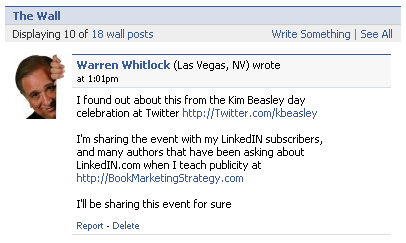 Kim Beasley, The Blog Queen, who Warren referred to, has more than 400 followers on Twitter, and I have no idea how many of those people signed up after reading her tweet.
If I still haven't convinced you, you can listen to social media success stories galore at The Social Media Summit Sept. 10-12 in Chicago, sponsored by Ragan Communications.  I attended Ragan's "Unconference" on social media last year in Chicago.  I made great contacts, came back with hundreds of tips to share with you, and learned about how to incorporate social media into my own marketing campaigns.
At this year's summit, you'll learn about Web 2.0 strategies such as podcasts, message boards, video and wikis.  The conference includes one track for internal communications and a separate track for external and marketing communications. Curious about what Web 3.0 might look like? You'll get a sneek preview.
I hope to see you there.  This conference is so important that I worked out a special arrangement with Ragan.  Publicity Hounds save $100 on the $1,195 registration, plus an additional $100 if you take advantage of the early-bird registration, which has been extended to this Friday.  To get $200 off and pay only $995, you must use this link.
Let me know if you're going to the conference.  Maybe we can have coffee between sessions.