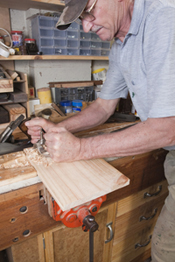 Patti Chavet of Frisco, Texas writes:
"I'm a sales consultant and I want to brand myself as an expert in active adult lifestyle living in Texas.
"My target market is Baby Boomers, age 55 and older, who want to downsize to a maintenance-free home so they're free explore personal hobbies, interests, public service, education, travel, etc., all in the company of others who share the same lifestyle.
"I work for Del Webb, whose communities traditionally have targeted retirees looking to downsize. I'm new to marketing, and I'd like ideas and advice on how to use traditional and social media to become the go-to person in Texas who can help Baby Boomers move from big houses to easy-to-manage single-family homes in Del Webb communities.
"Where should I begin? I've been in this niche market for more than 20 years, so I'm already an expert. My challenge is to now spread the word throughout Texas. I'd love to hear suggestions from your Publicity Hounds."