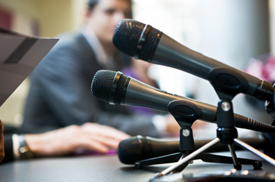 Somebody just send me an email with a subject line "Quick question for members of the media":
Good morning!
Quick question .  .  .  .
If you were to go to ONE press conference a week, which would be your favorite day?  Is Monday a good day, at the start of the week?  Not Friday, I imagine; right?  Wednesdays – to get out of your routine and break what can be a monotonous week?  This is not a fickle question, or a trick question; I'd love to know – truly!
She included a link to her website.
Here's how I responded:
I would probably do everything in my power to avoid going to a press conference altogether.  Reporters despise press conferences because the vast majority of them are irrelevant.  If it is of any significance, all media people leave with the same story.
So, bottom line, I would do everything in my power if I were you to NOT hold a press conference in the first place.
When I interviewed Sandra Eggers, APR about Creative Alternatives to Boring Press Conferences, she gave example after example of fun media events that generated fantastic publicity, like:
—A fun "Kid's Town Hall" that publicized what was otherwise a boring college news event. (Lots of cute faces for the TV cameras!)
—How a florist association announced its formation by giving away 50,000 roses and carnations  to new moms in local hospitals.
—How a group used hundreds of conch shells to publicize a lack of funding for special education in Michigan.
By the way, sending a blast email to media people brands you as clueless. If you're not sure how they do their jobs, read my newsletter for publicity tips, or ask your colleagues for guidance.