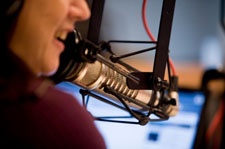 If you're trying to get onto radio talk shows to promote your book, product, service, cause or issue—and you're on a tight budget—a series of inexpensive ebooks will help you locate the contact information for shows in specific niches. 
Talk radio advocate Francine Silverman has based the ebooks on her book, Talk Radio Wants You: An Intimate Guide to 700 Shows and How to Get Invited (McFarland & Co.  2009).
The ebooks include the show theme and guest criteria, which is usually missing from radio websites, in addition to title of show, name of host, email, phone (optional), website, best method of contact, and where the show is aired. You'll also find information on Internet radio shows.
"Naturally, there are more shows in the book in every category, but as more questionnaires are returned, the number of shows in the ebooks are likely to surpass the book's," Silverman says.  "The business ebook, for example, has 53 shows, compared to the book's 49."
Even though some of these shows are small, Publicity Hounds can use these gigs as practice sessions. Appearing on TV and radio talk shows in smaller markets lets you make your mistakes, and learn from them, in front of much smaller audiences. Then, and only then, will you be ready to hit the big-time talk shows in the top markets. 
The ebooks include information for these niches:
Business
53 shows, ($20). Covers workplace issues, innovation, entrepreneurship, business strategies, careers, finance, small business, sales, home-based businesses, investments, insurance, money management and real estate. 
Entertainment
30 shows ($12). Covers art, fashion, movies, music and comedy.
Politics
25 shows ($12). Covers conservative, liberal and Libertarian politics; current events; the Constitution; and pop culture.
Self-Help
27 shows ($12). Covers overs personal and professional goals, growth and empowerment, emotional freedom techniques, motivation, creativity, living one's calling, making for a better world, transforming your life, and self-realization.
Health
20 shows ($12). Covers healthy living and lifestyles, fitness, health as a business advantage, natural healing, alternative medicine, medical travel, issues, education and treatment, and overcoming adversities.
New Age
35 shows ($15). Covers astrology, metaphysics, Tarot, Angels, psychic development, paranormal, parapsychology, holistic health, healing, mysticism, occult, mediums and more.
Customers will receive five free updates when Silverman gets information on five new shows in that niche.
To buy the book, pay by PayPal to franalive@optonline.net. Or send a check payable to Francine Silverman to P.O. Box 1333, Riverdale, New York, NY 10471.  She'll email you your book when she receives your check.
  
I asked Francine for three sample listings, and here's what she gave me.
Bob Hardcastle's Money Talk
Name of Host: Bob Hardcastle
Theme: Financial
Where Aired: KFNS 590, St. Louis, Missouri
Guest Profile: Banking & Finance, Investment, Real estate, Commodities professionals
Email: delta@moneytalk.org
Website: http://www.moneytalk.org
Phone: 636-532-0484
Best Method of Contact: Phone
        
       
The Art Rocks! 

Talk Show Name of Host: Philly Joe Swendoza & Co-Host Alexandra Rosa (Executive Producer)
Where Aired: WS Radio
Theme: "Where art, fashion and Lifestyles collide"
Guest Profile: Someone in our related genre, rock stars, celebrities, people who want to showcase their product or service on our show as it takes the form of an Infomercial. 
Email: alexandra@artrocks247.com
Website: http://www.artrocks247.com
Phone: 619-890-254
Best Method of Contact: Email
   
   
Mission Unstoppable Radio
Name of Host: Unstoppable Frankie Picasso
Theme: Inspiring stories to help folks be Unstoppable
Where Aired: Blog Talk Radio
Guest Profile: Authors (preferred) who have been unstopppable in their lives, attaining their goals, overcoming tragedy or who help others, i.e., business, crime, music, religion, spouse abuse; all categories are open.
Email: coachpicasso@rogers.com
Website: http://www.instituteforquantumliving.com
Phone: 519-267-2493
Best Method of Contact: Send books to 839 Avenue Rd, Cambridge, Ontario, N1R 5S4 Intiial contact. Email is best.