As airlines go out of business and consolidate, their inflight magazines are disappearing or shrinking, making it tougher to use these publications in a publicity campaign. 
When I flew United over the weekend, I noticed an easy way to increase your chances of getting publicity in Hemispheres, their inflight magazine.  This tip also applies to Southwest and a few other airlines. And it requires no pitching.
United has a page called "Hemigram" in the front of the magazine. It features several photos of customers holding up a copy of Hemispheres. You can see they're on vacation, at the beach, at sporting events or on the airplane. United wants you post your photo to Twitter, Instagram or Facebook and use the hashtag #Hemigram. You don't have to appear in the photo. But the magazine does.
Editors will choose their favorites and publish them each month on that page.
But you must be strategic.
Find a way to include your name, your company's name or the title of your book prominently in the photo, even if it's far more prominent than the cover of the magazine. I went through some online issues of Hemispheres and found three excellent examples of how others have done it.
1. Stand in front of your trade show banner.
You can see the MSPT Poker Tour on this banner. Be careful that you don't stand in the way of words or anything else that identifies you or your business.  
The tweet reads:
@msptoker @MSPTeric can't fly @united to a poker tournament without picking up a copy of @hemisppheremag!
See 9 Other Ways to Use a Trade Show Banner for Marketing.
2. Stand in front of a large sign for your business.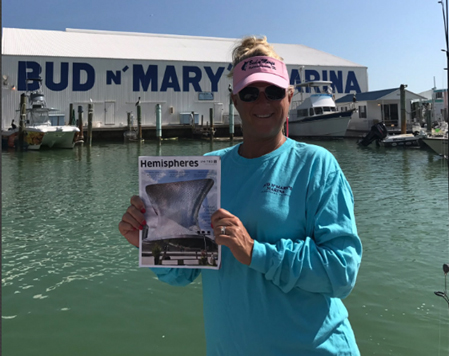 The tweet reads: 
@Wikeating @united fishing with my husband and my favorite magazine #hemigram 
I'm guessing this woman is at the marina just to fish. But if she owns the marina, what a clever way to get free advertising. She's positioned perfectly because you can tell the name of the marina is "Bud 'N Mary's Marina."
3. Display your book prominently in the photo.
Do you have a book? Do you do book signings? Do you attend book festivals? Do you see where I'm going with this?
The publication on his table looks like a typical marketing piece for his school district. If I had a book, I'd put it upright on a stand in the foreground, right at the front edge of the table so people can see the cover. But I'd make sure it doesn't block the cover of the magazine.
Other Ideas for your #Hemigram
Five quick ideas:
Wear a T-shirt with the name of your business in big letters. Hold the magazine off to side so people can read your T-shirt. Beware of ball caps, however. They're usually too small for the letters to show up clearly, especially in the magazine where the photos are small. 
You don't have to be in the photo. On the plane, place the magazine on your tray table in front of you. Place your book next to it.
Sponsoring an event? Use the magazine, or the part of the magazine that says "Hemispheres" as a backdrop and put a small sign for the event in the foreground.
Are you a speaker or subject matter expert? Your T-shirt can say "Leadership Speaker" or "Ask Me About Computers" in giant letters.
If you're a speaker, how about a photo of you onstage, with your banner in the background?
The next time you're on a plane, check to see if the inflight magazine has a similar feature. I saw one in Southwest's magazine  when I flew last year. You can also go over to #Hemigram on Instagram and see the photos other people have submitted. 
These are some of my ideas. What are yours? I'd love to see them in the Comments.