For at least a decade, we've been hearing that the press release is dead.
Findings from a recent survey look like the nail in the coffin:
 "New Muck Rack survey: 3% of journalists say they rely heavily
on press releases sent via newswires."
As a publicity expert, I've been teaching clients how to write press releases for more than two decades. I was surprised the survey showed results showed that such a high percentage of journalists all but ignore what many newsmakers and PR pros view as a staple in a publicity campaign. The survey also found that 53 percent of U.S.-based journalists don't rely on press releases at all. You can download all the survey results on "The State of Journalism Today."
If you're tempted to abandon press releases, don't. Instead, take a closer look at the survey, conducted by Muck Rack, a platform that filters and analyzes how journalists are covering the news in real time, and Zeno, a communications agency.
It asked journalists specifically about press releases sent via the newswires like PR Newswire and PRWeb. Many of my clients—especially authors, speakers, experts and small business owners—can't afford press release distribution services. Many write their own releases. 
Dan Janal, a publicity expert, writes and distributes press releases through his Guaranteed Press Releases service. I asked him how he justifies the importance of press releases in light of the Muck Rack survey. He emailed this response: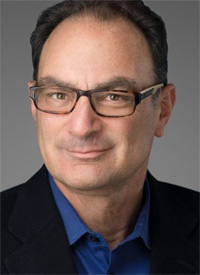 I think a lot depends on how the question is phrased, and which media is being targeted. 
For example, one of my clients makes drones for farmers. They use press releases and get a LOT of coverage. That's because trade publications and vertical market reporters obviously depend on press releases. Probably a lot more than general assignment reporters for mass media outlets.
Another client makes watercraft vehicles. You've heard of them, but I won't mention their name here. They get a lot of coverage as well from their vertical market media.
Reporters who write enterprise stories (i.e. their own investigations) don't need or want press releases because their motivation is internal.
Other reporters need to use press releases as source material and to get accurate quotes from the company. That's a valuable use of press releases for the company and reporters. Publicly traded companies obviously must issue press releases to stay in compliance with SEC guidelines of equal access to information. Financial reporters rely on those press releases. Were those reporters included in the survey?
In other words, the survey tends to lump all reporters from all media with all motivations into one big pool, instead of treating each vertical market as distinct, with its own needs. For some media, press releases are vital. For others, not so much.
On another point, some people who issue press releases don't care about the press. They want to get listed on Google, they want to use the logos of the media that reprint their press releases and they want to be found by people who are searching for their keywords. For example, we had a client who sold fractional jet travel. They wanted to be found by corporate travel departments.
5 More Reasons to Use Press Releases
1. As collateral material when sending a customized pitch.
Press releases rarely result in major media stories. But customized pitches that are perfect for a specific media outlet's audience do. Linking to a press release from the pitch, whether the release is at your website or distributed through a paid service, can save journalists valuable time during an interview because they have instant access to your background, links and other pertinent information.
 2. To help other people who you want to promote you.
I recommend that all authors slip a copy of their book's press release into their book when mailing it to reviewers, but only after the reviewer has requested the book. Never send it unsolicited. Ditto for a new product you're sending to a blogger. 
Several times, authors have mailed unsolicited copies of their books to me, hoping I'll write about them. If I'm interested, the first thing I do is look inside for a copy of the press release. When I don't find one, I'm tempted to put the book aside and come back to it later. Guess where the book eventually ends up? In a cardboard box of other books I'm donating to Goodwill.
3. To position yourself as the local expert.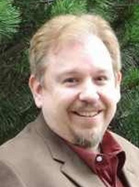 A.  Michael Bloom of Boston, an elder care expert, offers help for caregivers. He hired Nancy Juetten to write a press release for him and used Dan Janal's distribution service. Dan suggested Michael optimize the release for "Boston elder care expert." That's exactly what he did.
WFXT-TV Channel 25 in Boston did an in-studio interview with Michael for a segment on Baby Boomers and the looming elder care shortage. 
This morning, I did a Google search for "Boston elder care expert." Michael's releases on PR Newswire, distributed through Dan's company, are still ranking second and third in the organic listings—five years later!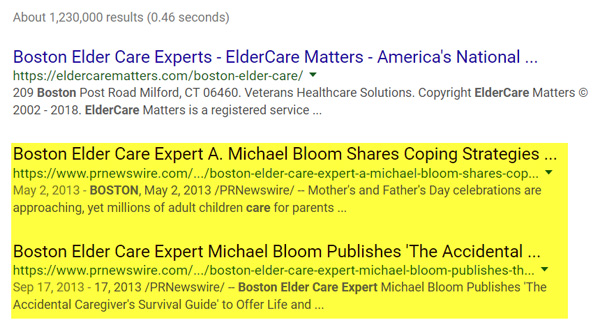 4. To teach website visitors about your business. 
You can include a list of your press releases in your online media kit or online press room. Journalists aren't the only ones visiting.  
5.  To reach consumers directly.
You don't always have to have "legitimate news" to write a press release. You can use releases to share tips and advice, build an email list, and offer multi-media like a link to a podcast or a video.  I offer a free cheat sheet "89 Reasons to Write a Press Release" when you subscribe to "The Publicity Hound's Tips of the Week," my free email tips delivered every Tuesday and Saturday. 
It's worth repeating: Don't use a one-size-fits-all press release if you want major media coverage. You need a customized pitch. My training "How to Pitch Your Story in 5 Easy Steps for a Publicity Homerun" will show you how to create customized pitches. 
What other ways do you use press releases? The comments section awaits.