When somebody uses Google to search for a person with your expertise, and types in "time management expert" or "leadership expert" or "parenting expert" or "(fill in the blank) expert," does your name show up near the top of the list of search results?
Does it even show up on Page 1 of the results?
If not, here's a powerful way to land a spot on Page 1. If you're already on Page 1 for your website or blog, you can use this same trick to generate another listing on Page 1. 
Use a service like Expertclick: The Online Yearbook of Experts to appear near the top of the list. As you can see below, my Expertclick subscription which includes my expert profile, gives me a #3 ranking for the term "publicity expert," just behind the #1 ranking for my website and the #2 ranking for the bio in my online press room.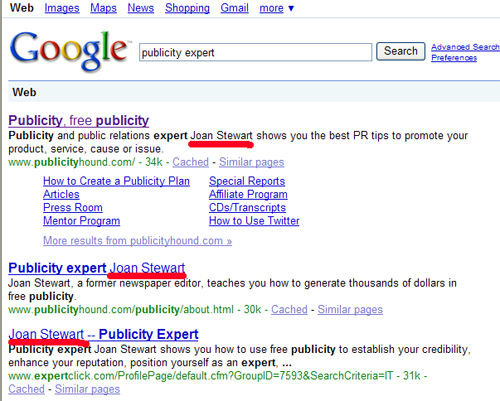 This drives my competitors crazy.
 
Send releases free for a week 
Here's the great part. Mitchell Davis, who owns Expertclick and NewsReleaseWire.com, is letting anyone take a free test drive for a full week, with no commitment to subscribe.
I recommend you take advantage of his offer and create a profile. Then start writing and distributing several press releases. You can distribute up to 52 a year with a paid subscription, in addition to getting a listing in the Yearbook of Experts, which journalists search frequently when they're looking for sources.
Your profile won't land you on Page 1 of Google instantly because Google probably won't index the page for several more weeks. But if you stick with the service, you'll most likely make it onto Page 1 of Google for the phrase "(fill in th blank) expert," assuming that you use it within your Expertclick profile. The search engines view Expertclick as an authoritative site. That's why you'll rank high.
I've written about how Adam Armbruster's Expertclick listing gives him the #1 spot on Google for "TV advertising expert" and "television advertising expert." Tim Walsh is #1 for "toy expert." And Debra Holtzman has the #1, #2 and #3 spots for "child safety expert," thanks to Expertclick.
 
Sign up by Feb. 19
To take a test drive, you have until the end of tomorrow, Thursday, Feb. 19, to sign up:
—Call Mitch at 202-333-5000 and ask him for The Publicity Hound special. He'll set it up for you so you can see how the service works—with no commitments to subscribe.  (They answer their own phones.) 
—Or set it up yourself by clicking here. Choose the Gold Level.  Then complete the "Participant" information for the person who the account will be bout and the "Subscriber" info for the person in charge of the account.  Check the credit card box, but don't enter your number because you aren't paying for this.
In the "Special Offer" box enter: "Free Week from Publicity Hound."  Then click on "Create Your Press Room Page" and you'll able to edit instantly.  Once they approve your account, you'll be able to start sending press releases.  Their terms of service apply, so be sure to read them. 
 
Use Expertclick to bury bad news
If you're ever in a bad news situation, you can "push down" or bury the bad news on the search listings by using a service like this one to distribute several press releases on different topics. Because your press releases are more current than your older, bad news, they will usually be closer to the top of the list.