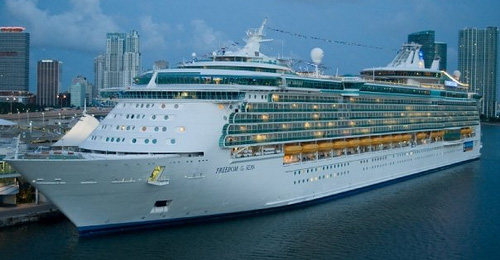 There's so much to see and do on the fourth annual Publishing at Sea cruise, that I'm giving a quick rundown of the previous day, sharing with you highlights of what we saw, learned and ate.
You'll see some of the best tips from our 18 hours of class time. And I'll include fun tidbits, ship trivia and interesting factoids that I hope will convince you to join us next year.
I'm one of six faculty members teaching our 28 authors how to market and sell their books. Here then is a rundown from Day 1.
Noon:
I board the ship and buy my first trinket: a bright yellow Green Bay Packers lanyard for $10. I'll wear it tomorrow when the Packers play the Atlanta Falcons for the NFL Division Title game. We can watch the game on the big screen by the swimming pool, which means plenty of seating.
2:00:
Still in port, I kill some time in my cabin on Deck 6, watching the worker bees below moving containers of food and bottled water onto the ship with forklifts. Among them is a bomb-sniffing dog and its handler. 
Later, in the cabin, I notice an item in the Cruise Compass, the daily newsletter filled with each day's activities:
"For the safety and well-being of all passengers onboard, some members of our security team will be wearing Body Cameras as part of their uniform."
3:30:
We meet in the Olive or Twist lounge, for introductions, with a spectacular view of Port Lauderdale from Deck 14. Our 28 authors have written more fiction than nonfiction books, but almost all of them said they need help marketing and selling them.
The most common question authors ask me is, "How long do I have to market my books?" My answer is always the same: "Only for as long as you want to sell them." 
4:30:
We're still in port, and already, I've lost my phone. Guest Services tells me no one has found it and I'm starting to panic. Later, as I'm grumbling about what happened, it dawns on book shepherd Judith Briles, who organized the cruise, that she accidentally picked up my phone after our get-together with the authors. I felt like I had just gotten my life back.
6:45: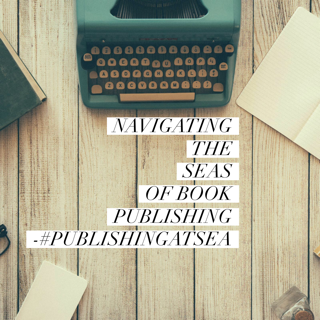 At dinner, faculty member Kelly Johnson and I are talking about techie tools. I tell her about Word Swag, a cool app for adding text to photos. I whip out my phone and, together, we make this quickie photo in a few minutes. I'm so excited about the app that I forget how much I hate it when people use mobile phones to talk or text at the dinner table.
I just noticed the typo: the period before the #PublishingatSea hashtag. We had to work fast because the waiters were clearing the dinner dishes so they could serve dessert: blueberries and peaches with crumble topping and vanilla ice cream.
9:45:
Comedian Steve White has us roaring. He's best known for his roles in five Spike Lee movies. His funniest joke of the night is his explanation of why the gym is in the front of the ship and the buffet is in the back. No one is in the gym. Everyone is at the buffet. If it were reversed, the front of the boat would sink.
After the show, Judith tells me she swung a deal with Royal Caribbean to have not one, but two book signings for our authors on Friday and Saturday on the Promenade on Deck 5, sort of the Main Street of the ship. A shameless marketer, Judith also says she's trying to convince Royal Caribbean to interview her for one of those promotional programs they show on TVs in the staterooms.
10:30:
I visit the Promenade for a piece of pizza and meet Gail from Minneapolis. We trade stories about our cruise experiences. When I tell her about the bomb-sniffing dog I saw, she tells me that one of the cruise companies brings a drug-sniffing dog onboard to hunt for drugs just before the ship is ready to leave the island. On a cruise a few years ago, she saw someone who was caught with drugs and hauled off the ship.
Tomorrow: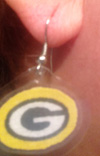 I'm presenting a session on how authors can become subject matter experts. Then there's football to watch, wearing my Packers shirt, lanyard and my lucky earrings.