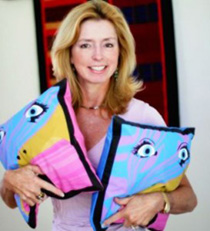 Gabrielle Yetter of  Marblehead, MA, writes:
"I recently launched my new company and produce The Screaming Pillow which is a pillow you scream into when you need to let off steam.
"It came about after my sister and her baby were killed in a car crash many years ago and my mother was counseled by a bereavement therapist to scream into a pillow.
"The product is more of a novelty item and I'm selling it through my website because it isn't cost-effective to sell retail.  I have been doing a huge amount of online promotion and recently had a nice article written about me in our local paper which resulted in a decent number of sales.
"But I'm looking for creative ways to get the message out to broader audiences.  I've made contact with a few therapists who love it and I have lots of ideas, but am somewhat limited since I am a company of one.
"I'd love some ideas from your Hounds about how I might be able to reach more targeted audiences and ways in which I may be able to get press other than just in our local paper."
A sampling of comments will be included in the "Help This Hound" section of next week's issue of The Publicity Hound's Tips of the Week, my free ezine. If you'd like help with your own publicity or marketing, email me your "Help This Hound" question and include your name and town. I'll consider featuring it here.