If you're new to promoting yourself, go after the low-hanging fruit first. That means pitching media outlets in your own community, joining online neighborhood groups like Next Door, and getting to know local bloggers, podcasters and freelance writers.    
After you feel comfortable interviewing, aim a little higher and go after daily and regional newspapers and magazines.  Then, try your hand at pitching national media.
Kasia McDaniel of Southern Pines, N.C., a home decorating and staging expert, used a smart publicity strategy that you can use too. She concentrates on local media and has pitched her local bi-weekly newspaper seven times in the last few years. Each time, she got publicity.
Because she's an active volunteer, she also found her way onto the websites of nonprofits and into their newsletters too. All those media hits helped brand her as the local decorating and home staging expert. And they made the phone ring.
Here's how she did it.
Promote an Upcoming Speaking Engagement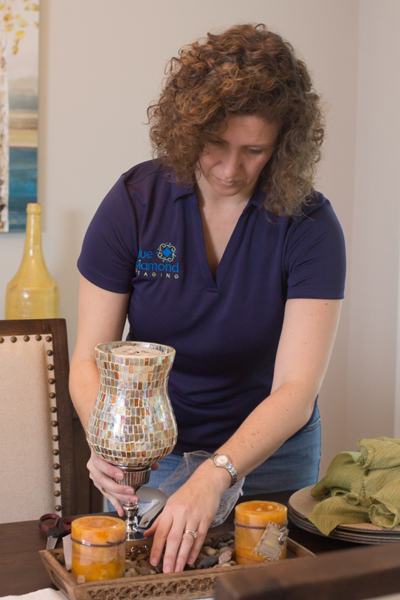 In February 2016, Kasia wanted to promote a free one-hour presentation at a local hotel on how to stage a home for sale.
She wrote a press release and submitted it to The Pilot, a twice-a-week newspaper in Moore County, N.C.  but never heard back. That's when Kasia went to the newsroom in person. She met Laura Douglass who turned it into a feature story for the business section under the Staged to Sell, Designed for Living. The article resulted in so many telephone calls from readers who said they wanted to come that Kasia rented a larger room at a local hotel. That story helped pull about 20 attendees, almost all homeowners.
"A real estate agent who attended asked, 'How did you get all these people here'? I told her it was because of the newspaper story."  
It didn't result in paying clients, but Kasia knew that was OK because was just starting her branding campaign. 
Her follow-up was what clinched the story.
When I worked as a newspaper editor, I was annoyed when people showed up at the paper unannounced to introduce themselves, drop off a press release, or pitch a story idea. If I was in the middle of editing a story or working on a major project, it disrupted the workflow. But if it was a slow news day, an unexpected visitor might result in a good story. That's what Kasia learned. 
I usually recommend following up by email. But in this case, the in-person visit worked.
Kasia figured she was still fairly new in town. She visited The Pilot newsroom and asked if they'd write about her. She caught them at the perfect time.   
Keep Building the Relationship
In May 2017, Kasia attended a local event and ran into Laura, the reporter who wrote about her. They were talking about Kasia's business and Laura said her newspaper should write another article about Blue Diamond Staging. She introduced Kasia to Mackenzie Francisco, an intern, who was assigned the story. 
The angle was a "new business in town." It was published, along with two color photos, under the headline Setting the Stage to Sell Homes Fast. 
Offer Statistics for Their Stories
Kasia explained the importance of home staging for people who want a quick sale. She also included a statistic from the Real Estate Staging Association. In a study of more than 1,000 homes, an unstaged home spends an average of 184 days on the market, while a home that is staged before going on the market stays there an average of 23 days.
Reporters seldom have time to do that kind of research. That's why they welcome facts and figures that will help round out their stories.  
Again, no new clients from that article. But Kasia was content with the publicity because she knew it was one more step in her broader branding campaign.
Changing a Business Name? Send a Press Release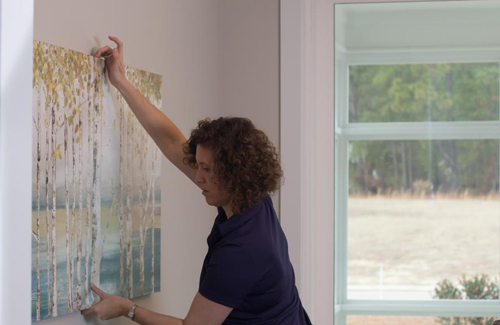 Kasia decided this year, after five years in business, that it was time for a name change because she did far more than simply stage homes. She helped people decorate them.
She wrote a press release explaining that Blue Diamond Staging had become Blue Diamond Staging & Design, LLC.
The press release included a valuable addition that many other press release writers would have forgotten. Explain why.
"While my original focus was helping homeowners prepare their home for sale, many homeowners are living longer in their homes," she wrote. "Sometimes they want an updated look or they just need quick design advice on a room such as a nursery, living room or bonus room. Other homeowners need advice on which finishes to pick when building a new home. They are nervous that their choices may not mesh well with everything else and need someone to help guide them. By adding the word 'Design' to the company name, homeowners can get quick design advice or help on larger home projects."
The paper rewrote the press release and published a short article in the Business Buzz section.  
The third time was the charm! It was that brief item that made the phone start ringing.
"I got five calls that resulted in five small consulting jobs," she said. "I made a total of about $600."
Business owners have opportunities galore to write press releases. Even if the releases result in only a few short items, they can keep your name in front of the public until the next major media hit. I offer the cheat sheet, "89 Reasons to Write a Press Release," as a special thank you for anyone who signs up for my free twice-a-week email tips. Subscribe to The Publicity Hound's Tips of the Week here and I'll send it to you within a few minutes. 
Submit Tips for Special Sections
Kasia knew her relationship with The PIlot was so strong that it would have been foolish to stop suggesting ideas. She knew The Pilot features a real estate section every Wednesday. She also knew that many newspaper staffs don't have enough writers to create original content for those smaller sections.
Because she's a graduate of the Staging Diva Home Staging Training Program (affiliate link), she promotes herself as an expert and submits tips on staging, decorating and other real estate topics. This year alone, the paper used three of her tip sheets, with attribution:
Staging Can Make Sales Happen, in April.
Six Tips to Get Your Home Ready for an Open House, in May
Help Elderly Parents Continue to Live Independently, in July. 
Donate to Local Fundraisers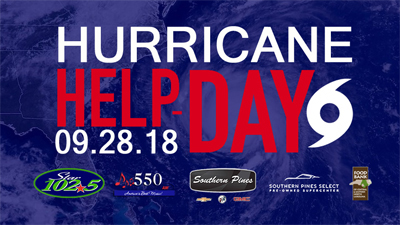 When Hurricane Florence created millions of dollars in damage to North Carolina in September this year, a local radio station invited listeners to donate money and supplies to help hurricane victims.
Kasia wanted to help. She bought about $40 in cleaning supplies, paper towels and gloves. Star 102.5 mentioned her name on the radio and also tagged her and other businesses that contributed on the station's Facebook Page. 
She also helped Habitat for Humanity by staging two of their Dedication Houses using only furniture and accessories from ReStore. ReStores are home improvement stores and donation centers that sell new and gently used furniture, appliances, home accessories, building materials and more to the public at a fraction of the retail price.
"I volunteered my hours but they gave me credit at the Dedication Ceremony," she said.
Why stop there? She wrote about it at her blog
This month, Habitat for Humanity featured Kasia in the Volunteer Spotlight section of its newsletter. "They asked me to write up 2 paragraphs and they used it! Nothing has come out of it yet but I just keep plugging along."
Collect Email Addresses at Events
"At the Dedication House, I left a sign-up sheet to collect email addresses so they can get on my newsletter list and get staging and design tips each month. That alone has added about 20 people to my contact list."
Email marketing requires a little technical expertise. If you want to learn more, watch the free video I created on How to Use Email to Attract Fans, Create SuperFans  & Sell More Books.  Even though it's for authors, you can learn how to use email as a primary marketing tool for any product or service.  
Be a Chamber of Commerce Ambassador
I've discussed how to get publicity galore by volunteering as a Chamber of Commerce ambassador.  No surprise, then, that Kasia is not only an ambassador, she's the Ambassador Chair. That was one more opportunity to appear in The Pilot which published a group photo, taken by the chamber, to accompany this article about all the local chamber ambassadors.   
"It's more of a branding thing," Kasia said. "I did get one client out of it—to help them pick out all the wall colors in the new home they were building. But I do use it as a way to meet new people and businesses and try to get more clients. You never know who needs your services. I also attend ribbon cuttings as much as possible to meet new owners and at chamber events as needed.
Accept Invitations to Volunteer
One of the many benefits of publicity is that you know where it might lead. 
Kasia recently got a call from The Weymouth House, the former home of American novelist James Boyd and his wife Katherine. It's also known as the Boyd House and is listed in the National Register of Historic Places. They invited her to donate her services and decorate a bathroom in the house for the Christmas season. 
She was thrilled because that project could result in more publicity, more contacts and possibly more paying customers.  
How to Publicize Your Publicity
Even if you decide to concentrate on pitching local media only, you have many more opportunities to spread the word. One of the best ways is to promote your publicity. Here are ways to do that: 
Let your professional associations know when a media outlet has featured you. Write a short press release about your media hit. Explain how you got it. Link to the article. If a TV station interviewed you, and the video is at their website, link to it. 
Contact clients, business associates and others who would welcome hearing about you. Use "Just keeping you in the loop…" in your email subject line. Then write a short paragraph telling them about the interview, and provide a link.
You can update your email signature with a short one-liner that looks like this: "Read my tips in the September 2018 issue of Northshore Moms magazine on how to quiet a colicky baby." Provide a link.
Add your media hits to your online media room or a media kit. Provide links like Kasia did here on the Blue Diamond Media Page.   
I've seen many people display the mastheads of newspapers and magazines and the logos of broadcast outlets on their home pages, or in a media section. Here's a sample from Michael Rozbruch, who does a super job in his online pressroom tooting his own horn as a tax resolution expert and showing readers that's he's a go-to-expert for top-tier media. Even if the only images you have are those from local media, that's OK. It's still better than nothing.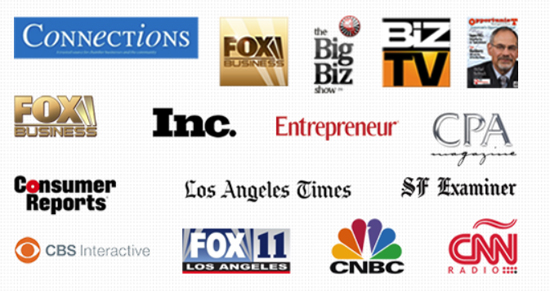 Add your most significant media hits to the longest version of your bio.
Share on social media. Add photos of you interviewing with reporters and radio talk show hosts, or in the green room. 
Blog about your media experience. How did the interview go? Did you feel you were prepared? Did any questions catch you off-guard? If you don't have a blog, consider writing about it and submitting it to another blogger who might welcome a guest post.
Include an "As seen in…" line on your speaker one-sheet.
Those are just a few of my ideas. If you've gotten publicity, what did you do to promote it? Use the comments section below to tell us about your success story. 
(Photos of Kasia McDaniel taken by Sonje Gejji)