It's difficult enough keeping up with all the updates, profiles, friending, etc. at social networking sites.
So thanks to Chris Knight of EzineArticles.com for reminding us to cross-promote from these sites and to include social media links in our EzineArticles.com profiles. 
His website is now supporting LinkedIn, Facebook, MySpace, Twitter & FriendFeed. Here's a sample of what his author bio looks like with those links added: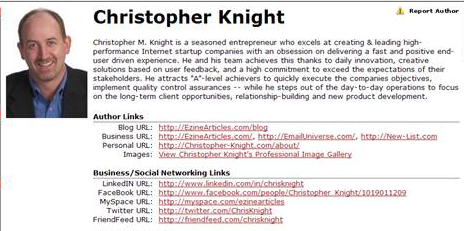 He offers 6 simple steps to quickly add your social media links.
If you haven't quite gotten this far yet and you're still creating profiiles for yourself at some of these sites, see How to Use Twitter for Business & Publicity and Use LinkedIn to promote–ethically and powerfully.