Beth Stafford of Concord, N.C. writes: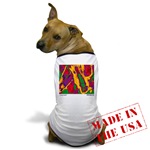 I am an artist working in collaboration with my dog to produce some of the wildest, most colorful and joyous abstract art around.
Our label is "PiCassieO," combining her name (Cassie) with an artist name (obviously) who represents the human half of the team (me).  We have a store at CafePress which opened in July. It is so far non-profit, even though the merchandise is really great!
I have been attempting to promote it on my own website and through our blog, but am spending too much time on nonproductive promotion and not enough on the art.  I need a few quick, simple tips to get the ball rolling.
Warning: My budget is "thread" instead of  "shoestring," and I'm a disaster at social networking on the web. Help!