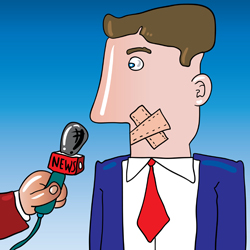 Of all the possible mistakes you can make when interviewing with the media, the worst one in my book is lying.
Bend the truth, even just a little, and that little white lie can suddenly become the story and have far more traction than the original story you were being interviewed for. Remember Watergate? And Monica Lewinsky's blue dress?
Being caught in a lie is far more likely today than it was 20 years ago, thanks to the ability to research quickly on the Internet. PR guy Jerry Brown reminds us about the Eight Common Interview Mistakes:
1. Being unprepared
2. Overselling the story
3. Saying too much
4. Saying too little (I wrote about this Friday here.)
5. Speaking hypothetically
6. No line in the sand (flip-flopping)
7. Being combative
8. Being dishonest
If you're prepared for the types of questions reporters might ask, you'll be in a better position to answer their questions honestly. See "Special Report #2: Questions You Can Expect Reporters to Ask During an Interview."
Publicists, what lengths do you go to to make sure your clients are honest with the media? Do you incorporate mock interviews with clients into your publicity projects?
Media trainers, what tips do you have to offer?